business
Tesla Seeks Independent Directors as Board's Musk Ties Eyed
By and
Managers of $721 billion urge stronger corporate governance

Conflicts of interest permeate the board, investor letter says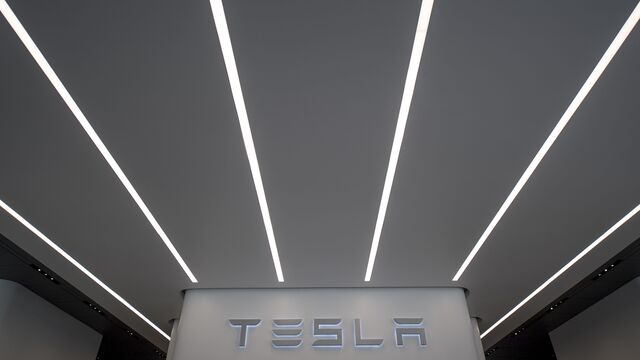 Tesla Inc. said it's searching for independent directors as an influential group of investors pressures the electric-car maker's board to add two members who don't have ties to Elon Musk.
Five of Musk's six fellow board members have personal or professional connections to the Tesla chief executive officer, which could jeopardize their independence, the California State Teachers' Retirement System and four other investors wrote in a letter Monday to Tesla's lead independent director. The managers of a combined $721 billion in assets also pushed for yearly director elections, rather than votes staggered every three years.
"Directors should be held to a higher standard of independence given the conflicts of interest that permeate this board," the letter to Tesla director Antonio Gracias said. "A thoroughly independent board would provide a critical check on possible dysfunctional group dynamics, such as groupthink."
The push is a signal that longstanding concerns with Tesla's boardroom remain even as the company's shares soar. Investors took issue with directors' ties to the CEO during the lead-up to last year's merger with SolarCity Corp. Musk's cousins ran the money-losing solar-panel installer, and he owned more than 20 percent of both businesses. Pressure to strengthen management oversight is rising as Tesla's market value climbs and rivals some of the world's biggest automakers.
Tesla will "soon" announce two new independent board members and has been planning this since the SolarCity merger, Musk said Wednesday on Twitter. "This group has nothing to do with it," he said in a tweet, referring to the investor group.
A Tesla spokesman on Tuesday said the company is "actively engaged in a search process" for the new board members, adding that "we regularly engage with our shareholders and value their feedback."
Read more: How Tesla's deal with SolarCity tested its board
Tesla has yet to publish the proxy for its upcoming annual meeting. In correspondence with the Securities and Exchange Commission, the Palo Alto, California-based company has indicated a proposal for annual director elections from the Connecticut Retirement Plans and Trust Funds will be voted on this year. The Connecticut funds are among the investors who signed the letter to Gracias, along with Calstrs, the second-largest U.S. pension fund.
'Still Concerns'
"Getting independent people on the board is important in terms of holding management accountable," Etelvina Martinez, the corporate governance manager at CtW Investment Group, which also signed the letter, said in a phone interview. "Shareholders need to be able to hold management accountable. While the stock price is doing extremely well, there are still concerns about corporate governance."
Tesla's board is comprised of Musk, his brother, Kimbal Musk; Gracias, the founder of a private-equity firm and a director at Musk's rocket company SpaceX; Ira Ehrenpreis, a venture capitalist and SpaceX investor; Brad Buss, a former SolarCity chief financial officer; Steve Jurvetson, a venture investor and SpaceX director; and Robyn Denholm, the chief operating officer of Telstra Corp., Australia's largest telecommunications company.
Musk is Tesla's largest shareholder, with a stake of almost 21 percent, according to data compiled by Bloomberg. Gracias is the sixth-biggest, with a 3.75 percent stake.
Investors' Influence
While the pension funds behind the letter don't have large positions in Tesla on their own, they're influential among other institutional investors.
Calstrs was one of the founding members of the Investor Stewardship Group, which assembled major fund managers to set corporate governance goals in January. The group, whose members include BlackRock Inc., State Street Corp., Vanguard Group and T. Rowe Price Group, generally backs annual board elections to increase accountability to shareholders.
"As companies grow up and mature, they need to have governance practices that reflect that," Philip Larrieu, an associate portfolio manager for Calstrs, said in a phone interview. "When the stock is doing well, the argument is 'we don't need to make changes, we are doing well. But we will push for these changes regardless of the stock price."
Annual Elections
Investors have pushed companies broadly over the past few decades to move to more frequent director elections. Less than 11 percent of S&P 500 companies have staggered board elections today, down from 32 percent in 2011, according to governance-data provider Equilar.
At annual meetings last year, ten proposals seeking declassified boards received 80 percent support from shareholders on average, according to data compiled by Fundvotes.com.
Tesla shares have climbed 44 percent this year, valuing the company at more than $50.3 billion. The company's market capitalization was $5.4 billion higher than Ford Motor Co. and trailed General Motors Co. by about $461 million as of Tuesday's close.
"If Tesla truly wants to be forward-thinking, then it needs to embrace accountability and it needs to welcome diverse, independent opinions into its boardroom," New York City Comptroller Scott Stringer said in an emailed statement. "Strong performance doesn't insulate Tesla from accountability."
(
Adds Musk comment in fifth paragraph.
)
Before it's here, it's on the Bloomberg Terminal.
LEARN MORE