markets
Siemens, Bombardier Said in Talks to Combine Rail Units
By , , and
Joint venture would merge train-making, signaling activities

Potential combination would require antitrust clearance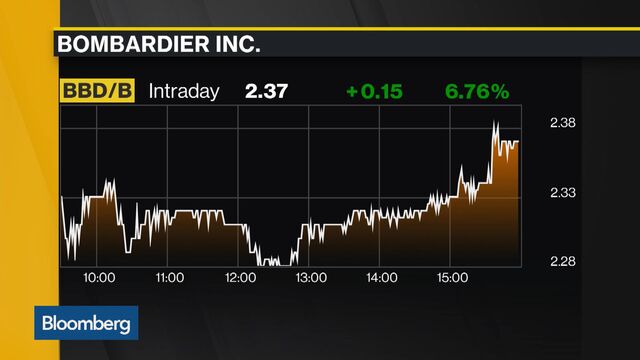 Siemens AG and Bombardier Inc. are in talks to combine their rail operations, according to people familiar with the matter, potentially creating a business that could better fend off increasing competition from China.
The proposed joint venture, which could be worth at least 10 billion euros ($10.6 billion), would merge the firms' train-making and signaling activities, said the people, asking not to be identified because the discussions are private. A deal could come by the middle of the year, one of the people said.
No final decisions have been made and any combination would require clearance from antitrust authorities and face potential opposition from unions, they said. Representatives for Siemens, which has headquarters in Munich, and Montreal-based Bombardier declined to comment.
Combining the Bombardier and Siemens businesses would create a rail powerhouse better able to rival industry leader CRRC Corp. of China, formed from a 2015 merger of the country's two main regional train makers. CRRC has been snapping up contracts worldwide, aided by an ability to finance entire projects. The move would also help fend off challenges in Europe, which has become the fastest growing rail market as governments seek to ease crowded roads and reduce carbon emissions.
Talks
Talks between Bombardier and Siemens started earlier this year, the people said. Analysts from Societe Generale SA have valued Siemens's mobility unit at about 7.2 billion euros, while Veritas Investment Research Corp. has said Bombardier's 70 percent stake in its transportation business is worth at least $5 billion.
Bombardier sold a 30 percent stake in its Berlin-based train business to fund manager Caisse de Depot et Placement du Quebec last year, valuing the unit at $5 billion and helping the firm raise capital as it faced a cash drain from delays for its new jets.
Still, antitrust concerns facing the two Europe-centered companies could be an obstacle to the deal, according to Invest Securities SA analyst Jean-Louis Sempe, who called the potential combination "logical."
Siemens and Bombardier would also likely have to win over support from labor representatives, who would object to job cuts. Bombardier's rail unit is set to bear the brunt of a companywide plan to cut as many as 7,500 jobs by the end of 2018.
Siemens shares rose 0.4 percent to 128.10 euros in Frankfurt trading. Bombardier rose 4 percent to C$2.31 in Toronto. Alstom SA, once seen as a potential partner for Siemens and likely squeezed by any tie-up between it and Bombardier, fell 2.8 percent. A representative of the French maker of the TGV high-speed train declined to comment.
Slimming Siemens
Moving its mobility division into a joint venture would further pare back the sprawling Siemens conglomerate, which until a decade ago consisted of more than dozen units making everything from mobile networks to light bulbs to heavy-duty industrial equipment.
Chief Executive Officer Joe Kaeser has spent recent years narrowing Siemens's focus on energy, factory automation and industrial software. He has sold most of the light-bulb division and announced plans to list the health-care subsidiary, which makes medical scanners and other imaging equipment.
Bombardier and Siemens already know each other well, with the Canadian company's transportation unit based in Germany after the purchase of Daimler AG's Adtranz arm in 2001 made it a leading global player. Siemens Mobility -- as the division is known -- has its biggest train factory in Krefeld across the Rhine river from the Ruhr industrial region.
Seeking Partner
Siemens makes the ICE high-speed train which connects German cities such as Cologne, Berlin and Munich. The division also makes diesel and electric locomotives, city trams and signaling equipment and has been dogged for years by charges and severance payments as it cut employees. This has prompted recurring speculation that the company may seek a partner such as Bombardier or Alstom.
While historically best known as a manufacturer of metro, commuter and regional trains, Bombardier has collaborated in high-speed projects including the ICE and Alstom's TGV and more recently developed the Zefiro model, which it sold to China for manufacture there.
A Bombardier-Siemens deal could isolate Alstom. Siemens's bid in 2014 to buy the French company failed amid a competing offer from General Electric Co., which ended up buying Alstom's energy-generation assets. The same transaction also saw Alstom acquire GE's assets in signaling, one of the most lucrative areas of rail technology and seen as key to boosting train speeds and frequencies.
— With assistance by Aaron Kirchfeld, Ania Nussbaum, and Christopher Jasper
(
Updates with analyst comment in seventh paragraph.
)
Before it's here, it's on the Bloomberg Terminal.
LEARN MORE