Le Pen Says She Would Dismantle All Immigrant Camps After Fire
David Whitehouse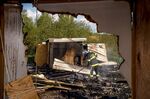 National Front Presidential candidate Marine Le Pen wrote in a statement that she would dismantle all immigrant camps in France after a fire at the Grande-Synthe camp near Dunkirk in northern France.
Le Pen wrote in a statement that the fire was the result of fighting between immigrants, and the result of a "lax" approach to immigration. According to Agence France-Presse, the fire overnight largely destroyed the camp.
Le Pen wrote that if she is elected president, demands for asylum will no longer be examined in France, but at embassies in countries of origin, and the number of asylum candidates accepted will be "drastically" reduced.
Before it's here, it's on the Bloomberg Terminal.
LEARN MORE