Dollar Slumps as Trump Says Currency's Too Strong: Markets Wrap
By
President says he won't brand China a currency manipulator

Treasury yields drop to lowest since just after election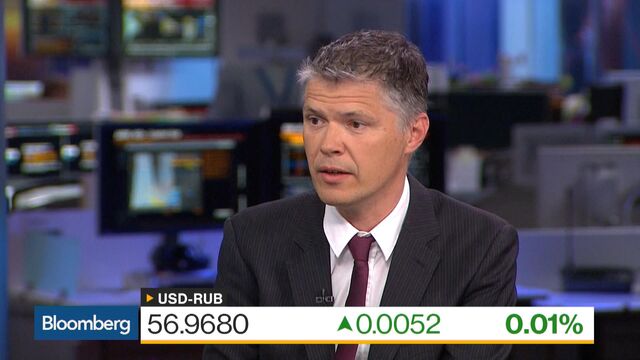 The dollar slumped and Treasury bond yields dropped to the lowest level this year after President Donald Trump said he will not brand China a currency manipulator and added that the greenback was getting too strong. U.S. stocks declined for a second day as volatility climbed again across asset classes.
The Bloomberg Dollar Spot Index fell as much as 0.4 percent after Trump made the comments in an interview with the Wall Street Journal on Wednesday, abandoning a core promise of his election platform that tapped into voter anger about trade-driven job losses.

The remarks are seen as reducing the risk that China could dump its holding of Treasuries in retaliation for being tagged a currency manipulator. China's currency traded outside of the country gained the most since last month.
Bonds also benefited from Trump's comments that he likes the Federal Reserve's low-interest-rate policy and is leaving open the possibility of renominating Chair Janet Yellen.
The S&P 500 Index closed down 0.4 percent at 2,344.93, while the Dow Jones Industrial Average fell 0.3 percent to 20,591.86. The Chicago Board Options Exchange SPX Volatility Index, better known as the VIX, rose for a fourth consecutive day, gaining 3.05 percent. The index has increased nearly 27 percent since its close on April 6.
Global equity markets are entering a key period, with the earnings season ramping up against a backdrop of mounting geopolitical tensions around Syria and North Korea as well as elections in Europe. Trump's struggle to push through his fiscal agenda and the debate over the pace of monetary policy adjustment in the world's biggest economy also cloud the picture.
Here's what investors are watching:
Canada held its benchmark interest rate at 0.5 percent, and Bank of Canada Governor Stephen Poloz said "a rate cut was not on the table at this time."
Analysts anticipate that Brazil will lower its key rate by a full percentage point, the biggest cut since 2009, as inflation has slowed by half in the last year.
Read our Markets Live blog here.
Here are the main moves in markets:
Currencies
The euro rose 0.55 percent to $1.0663 against the dollar.
The yen rose 0.43 percent to 109.15 against the dollar.
Stocks
The Nasdaq 100 Stock Index fell 0.4 percent, the Russell 2000 Index lost nearly 1.3 percent.
The Stoxx Europe 600 gained 0.2 percent.
Bonds
The 10-year U.S. yield fell as much as four basis points to as low as 2.257 percent, the lowest intraday level since Nov. 17. Thirty-year yields fell to 2.9 percent, just above the year-to-date low set in January.

German 10-year yields were little changed at 0.2 percent, near the lowest level since February.
Commodities
West Texas Intermediate crude fell 0.97 percent to $52.89 a barrel after a government report showed stockpiles dropped from record levels while production increased.
Gold was 0.25 percent higher at $1,277.40 an ounce.