White House Warns Syria of U.S. Response to 'Barrel Bomb' Use
By
Trump spokesman warns Assad to stop use against civilians

Syrian forces dropped almost 13,000 barrel bombs in 2016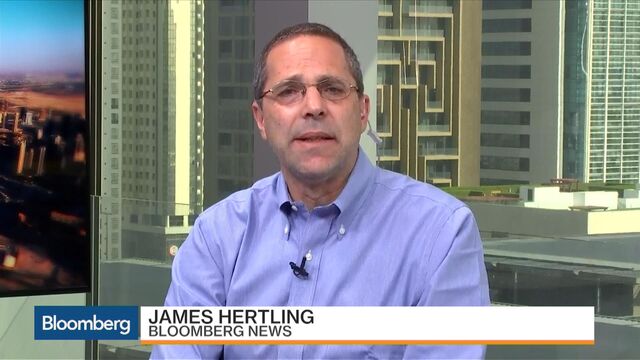 The White House press secretary warned Syria to stop using barrel bombs against civilians, suggesting President Donald Trump may expand the criteria for U.S. action against Bashar al-Assad's regime.
"If you gas a baby, if you put a barrel bomb into innocent people, I think you can -- you will see a response from this president," Sean Spicer told reporters at his daily briefing on Monday. "That is unacceptable."
Trump ordered a missile attack last week on a Syrian airbase, citing Syria's use of chemical weapons. Because Assad's forces depend more heavily on barrel bombs in quelling opposition in the civil war, the stance increases the likelihood of additional U.S. intervention in Syria.
Another administration spokesman tempered Spicer's comments after the briefing. Michael Short said "nothing has changed in our posture. The president retains the option to act in Syria against the Assad regime whenever it is in the national interest, as was determined following that government's use of chemical weapons against its own citizens."
The Syrian government dropped at least 12,958 barrel bombs in 2016, resulting in the deaths of at least 653 civilians, according to the Syrian Network for Human Rights. The United Nations Security Council demanded Assad stop using barrel bombs in a February 2014 resolution, and a UN inquiry commission found the regime's use of the crude weapons violated international law.
The improvised bombs, which are typically simple large containers packed with gasoline and shrapnel thrown out of helicopters or other aircraft, indiscriminately target the civilian population in the urban areas in which Assad's forces have used them, human rights groups have reported.
What Trump would encounter in Syria -- a Quick Take
The warning from the White House came as Trump and British Prime Minister Theresa May discussed the Syria situation by phone.
A May spokesperson said in a statement the leaders agreed that "a window of opportunity now exists in which to persuade Russia that its alliance with Assad is no longer in its strategic interest."
U.S. Secretary of State Rex Tillerson will visit Moscow this week to deliver that message and press Russia to uphold an agreement it brokered during the Obama administration to remove all chemical weapons from Syria. 
"The game has now been changed and it's important that message should be heard from the Americans to the Russians," British Foreign Secretary Boris Johnson told reporters on the first of two days of talks between foreign ministers of the Group of Seven nations in Italy.
U.S. Approach
The Trump administration has not said what other concessions Tillerson may seek during his trip, but the visit should provide some indication of the scope of the U.S. approach in Syria. Treasury Secretary Steven Mnuchin said the U.S. would soon announce new sanctions on the Assad regime to deter countries and companies from supporting it.
Denying Assad the use of barrel bombs would significantly affect his regime's fighting capabilities, said Anthony Cordesman, a foreign policy expert at the Center for Strategic and International Studies in Washington.
Air power, including the use of barrel bombs, gives Assad "a major advantage over the rebels," he said in a phone interview.
With barrel bombs, Assad is "essentially using a terrorist attack to drive civilians out of contested areas, push them into areas where somehow rebels have to support them or else they leave the country," he said.
Spicer emphasized Monday that further U.S. attacks on Syria remain a possibility, pledging decisive and proportional responses to actions deemed unacceptable by Trump. But Spicer declined to elaborate further on what actions may provoke a U.S. military strike.
"The president's been very clear that he's going to keep his cards close to his vest, but make no mistake, he will act," Spicer said.
Trump ordered the launch April 6 of 59 Tomahawk cruise missiles targeting the Shayrat air base near Homs, Syria. The White House said the strike was in response to Assad's use of deadly sarin gas in an attack that killed civilians in the town of Khan Sheikhoun.
The White House and Pentagon both downplayed reports that the Syrian regime was still able to use the base after the U.S. attack. Defense Secretary Jim Mattis said the Syrian government "lost the ability to refuel or rearm aircraft at Shayrat airfield and at this point use of the runway is of idle military interest."
— With assistance by Thomas Penny
Before it's here, it's on the Bloomberg Terminal.
LEARN MORE