Scammers Used SeekingAlpha for Bogus Stock Promotions, SEC Says
By
Regulator fines firms that made payments to article writers

Authors received compensation for publishing bullish research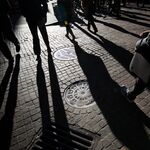 SeekingAlpha.com tries to ensure that research published on its popular investing website is unbiased by requiring writers to disclose whether they've been paid for touting stocks. But U.S. regulators say there's an easy work around: lying.
On Monday, the Securities and Exchange Commission sued 27 individuals and companies for their involvement in hundreds of conflicted articles that appeared on SeekingAlpha and other sites. The authors checked a box that said they hadn't been compensated, concealing the payments they'd received from stock promoters, the SEC said in a statement.
To hide their identities, writers used multiple pseudonyms, even creating separate personas who claimed to have 20 years of investing experience. At one promotion company, writers even signed a contract forbidding them from disclosing their compensation. SeekingAlpha wasn't accused of any wrongdoing.
"These companies, promoters, and writers allegedly misled investors by disguising paid promotions as objective and independent analysis," Stephanie Avakian, acting head of SEC enforcement said in the statement.
$3 Million Settlement
The SEC brought enforcement cases against three companies, seven firms involved in promoting stocks, two corporate chief executive officers, nine article writers and six other individuals. The regulator has agreed to some settlements, with one individual accused of violating securities laws paying almost $3 million.
The alleged improper conduct ended in 2014, legal orders filed by the SEC show. In 2012, SeekingAlpha barred the publication of articles for which writers had received compensation, according to the SEC.
"Our system documents all authors' claims to not having been compensated by third parties, and we maintain accurate records of all SeekingAlpha authors' real-life identities," SeekingAlpha Managing Editor Mike Taylor said in an emailed statement.
Promoting stocks is a hallmark of pump-and-dump schemes. The scam typically involves insiders buying shares for fractions of a cent, blasting out positive investment "analysis" to increase prices and then cashing in by selling shares.