Rouhani Defends Record as Iran Hardliner Bids to Replace Him
By
President says living conditions have improved on his watch

Next month's election seen as critical for relations with West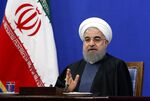 President Hassan Rouhani, credited with ending Iran's international isolation with the landmark nuclear accord in 2015, defended his economic record ahead of next month's presidential election -- a race jolted last week by the surprise entry of a prominent hardline cleric.
Speaking at a press conference in Tehran, Rouhani, who is widely expected to seek a second term, pushed back against criticism that poor Iranians have seen little benefit from the deal and lifting of sanctions. The economy has improved under his government, which stabilized the currency, curbed inflation and bolstered growth, he said on Monday.
"We've improved people's living conditions from every point of view," Rouhani told reporters. "Those on minimum wages, pensioners and those on welfare support have seen their incomes double in the past four years."
Rouhani, 68, was speaking days after conservative cleric Ebrahim Raisi, a 56-year-old ally of Supreme Leader Ayatollah Ali Khamenei, said he planned to run. Last month, Khamenei singled out the plight of poor families and criticized Rouhani's government for the state of the economy. Persuading the poor that they'll be better off with him will be key to Rouhani's chances, according to Ali Vaez, senior Iran analyst at the International Crisis Group.
"Rouhani undoubtedly needs to expand his voter base by appealing to fence-sitters and lower-income voters, who are susceptible to populist promises of a rapid economic recovery," Vaez said in an email. "Higher-income voters are already in his basket, as they are unlikely to tilt toward the conservatives."
A poll by the University of Maryland published in January found that, for the first time since 2014, a majority of Iranians think the economy is getting worse. Seventy-three percent said the nuclear deal hadn't improved their living conditions. Support for the president dropped below 50 percent.
Opening Up
Rouhani won the presidency in a first-round landslide in 2013, aided by a divided field of five conservative opponents. He made normalizing Iran's relations with the West the cornerstone of his presidency, and has tried to open the country to trade and investment.
Next month's vote puts that policy at risk, as the Iranian conservative establishment is more hostile to the U.S. and its allies -- though it is not clear that a conservative victory would lead to Iran backing out of the nuclear deal, which received Khamenei's approval.
It also isn't yet clear whether other conservative hopefuls will leave the challenge to Raisi. And were Rouhani to lose, he would be the first president in the history of the Islamic Republic to serve a single term.
'Wait and See'
Registration for presidential candidates begins on Tuesday at the Interior Ministry and will last five days. Rouhani said reporters must "wait and see" whether he makes an appearance.
"This year's campaign has had a belated kick off," said Vaez at the International Crisis Group. "The sooner Rouhani starts campaigning, the sooner rivals will mobilize against him."
On Monday, Rouhani appeared to be in campaign mode. He emphasized inflation, which fell from 40 percent when he was elected in 2013 to 9 percent in the latest data. He also shrugged off pledges from would-be presidential challengers including Hamid Baghaei, a former aide of Rouhani's predecessor Mahmoud Ahmadinejad, to substantially increase cash subsidies for all Iranians.
"Populist and demagogic approaches are not befitting our people or our country," Rouhani said of the idea. "Subsidies that are being paid by the government are fully accounted for," whereas in the past state handouts were sometimes funded illegally via the central bank, he said.
Asked why he wasn't able to solve the country's problems in 100 days, as a reporter from the Hamshahri newspaper said he promised, Rouhani denied ever saying it and said he's been "waiting for four years" for the issue to come up.
"Only someone who is out of their mind would say that in 100 days they can solve every problem," he said. "We made a plan from the first day and our economic growth and current rate of inflation is the result of our planning."
Before it's here, it's on the Bloomberg Terminal.
LEARN MORE