markets
Japan's Current-Account Surplus Bounces Back in February
By and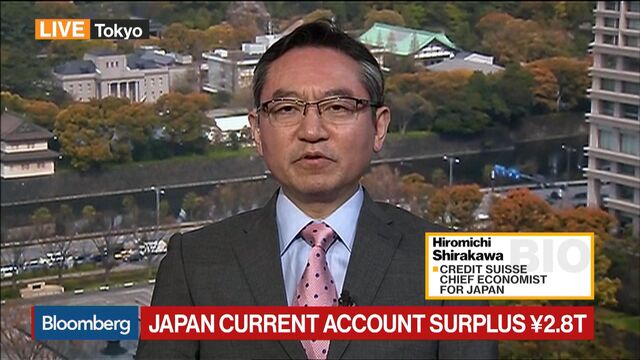 Japan's current-account surplus for February was 2.81 trillion yen ($25 billion), up from 65.5 billion yen in January, according to data released on Monday.
Key Points
The surplus widened 18.2 percent from a year earlier.
The median estimate of economists surveyed by Bloomberg was a 2.51 trillion yen surplus.
January's current-account surplus was weak thanks to a monthly trade deficit resulting from the timing of the Lunar New Year holiday in Japan's trading partners.
Big Picture
Japan has maintained current-account surpluses for years thanks to a typically positive trade balance and strong primary income from investments overseas. A recovery in exports is reinforcing this trend. The current-account surplus has also been large enough to land Japan on the U.S. Treasury's currency watch list, the latest version of which is due this month.

Economist Takeaways
"Exports have stabilized after bottoming out, so this time we should see a good export figure,"said Yuichiro Nagai, an economist at Barclays Securities Japan before the data were released.
"In the context of a global recovery, exports in the first quarter look like they'll be riding a high wave," Nagai said. "One point to watch will be the weakening of auto exports to the U.S. It's not clear what the cause is."
Before it's here, it's on the Bloomberg Terminal.
LEARN MORE