IMF Says Workers May Need Wage Subsidies to Cushion Trade Shocks
By
Fund publishes global trade report with World Bank and WTO

Countries need to help workers that get left behind: report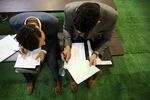 The world's top global economic organizations urged nations to consider policies that would cushion the blow to workers of trade shocks, such as by compensating employees for lost wages.
It's critical for countries to adopt policies that help workers adjust to the negative effects of trade, according to a report by the International Monetary Fund, World Bank and World Trade Organization. "With the right policies, countries can benefit from the great opportunities that trade brings and lift up those who have been left behind."
The paper, released on Monday, was prepared for discussion at the meeting of G-20 sherpas last month in Germany.
The three institutions recommend measures such as job-search assistance and training programs. It may be appropriate to offer workers some form of "wage insurance" against income losses when their industries are hurt by trade, the report said, cautioning that such programs need to be carefully designed.
U.S. President Donald Trump promised during the election to help blue-collar American workers who lost their jobs to global trade, often singling out China and Mexico. While he's not followed though yet on promises to impose punitive tariffs on China or officially started renegotiating free trade with Canada and Mexico, last month he's signed an executive order requiring the review of every "trade abuse" that contributes to the U.S. trade deficit.
Moral Hazard
The U.S. Labor Department offers help to workers who lose their jobs as a result of trade, through a program called Trade Adjustment Assistance. It provides support for training and finding a new job, and in some cases, gives out income support.
The joint report notes that evidence from wage-subsidy programs has been mixed. It points out that such initiatives can lead to moral hazard, since employers may be tempted to offer lower wages, knowing employees will be compensated.
"While they have had a limited impact thus far, if well targeted and adequately financed trade adjustment assistance programs could take on a greater role," the report said.
The report comes as finance ministers and central bankers from the IMF's 189 member countries prepare to meet in Washington for the fund's annual spring meetings from April 21-23. At the G-20 meeting last month in Germany, finance chiefs yielded to pressure from the U.S. and set aside a previous pledge to avoid protectionism.
Openness to trade has increased productivity and improved competition while lowering prices and improving living standards, the joint report said.
The trio of institutions also recommended "passive" labor-market policies such as unemployment insurance and minimum wages. Nations should also consider complementary policies, such as boosting education and putting in place housing rules that don't hinder mobility.
Before it's here, it's on the Bloomberg Terminal.
LEARN MORE