Hungarian President Signs University Law Sparking Protests
By and
Rallies continue after tens of thousands attend Sunday's march

University bill part of Orban's bid to end liberal democracy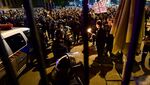 Hungarian President Janos Ader signed into law a measure cracking down on foreign universities that is fueling one of the strongest series of protests against Prime Minister Viktor Orban's government, demanding he respect democratic norms.
Ader, a long-time Orban ally re-elected last month to a second term with support from the ruling party, signed the law amending the rules for foreign universities, his office said. In doing so, he rejected the options of sending it back to parliament for reconsideration or asking for a court assessment, as he saw no conflict with the constitution or international treaties.
"So that no one has the smallest doubt that foreign universities can continue to do work of high quality in Hungary, I ask the government to immediately start talks on the law's implementation with those affected," Ader said in a statement on Monday.
The legislation has fueled controversy over Central European University, which was founded by Hungarian-born investor and philanthropist George Soros in 1991 to train a new generation of democratic leaders after communism. CEU says the news rules are aimed at shutting it down. While the government denies that, Orban regularly blames Soros, who funds groups that seek to promote human rights and government transparency, for trying to undermine him. The U.S. and Germany have condemned the law and called on Hungary to reconsider.
Due Process
CEU will immediately seek legal remedies for what it called a "flagrantly discriminatory" move by the authorities, the university said in a statement after Ader's decision.
"The legislation was introduced without consultation with CEU or with necessary Hungarian authorities and thus violates elementary standards of due process observed in any democratic country," it said.
Sunday's protest drew tens of thousands of demonstrators into the streets of Budapest for one of the biggest anti-government rally since Orban took office in 2010. A new protest has been scheduled for Wednesday, the same day EU commissioners will discuss the university law. Hundreds gathered on Monday night outside Ader's office in Buda castle chanting "We're ashamed of you" shortly after he published his statement, according to live footage by Index news website.
Orban, who has vowed to end liberal democracy in the European Union country of almost 10 million people, is stepping up a campaign to sideline independent voices a year before parliament elections that he's expected to win. Last week, his government filed a separate bill to force civil society groups funded from abroad to be labeled as "foreign" agents.
That bill mimics a 2012 law in Russia that was the first step in an exodus of U.S.-based and other non-government organizations there. It aims to "stigmatize" groups and to silence criticism, according to Soros's Open Society Foundations, which has given $400 million since the 1980s to Hungarian civil society groups.
"We are willing to sit down with the Hungarian government to find a solution to enable CEU to stay in Budapest and operate as we have done for 25 years," CEU President Michael Ignatieff said in the statement. "However, academic freedom is not negotiable."
Before it's here, it's on the Bloomberg Terminal.
LEARN MORE