How Patent Trolls Sparked a Failed Assault on High Drug Prices
Kyle Bass caused high anxiety for Big Pharma.
By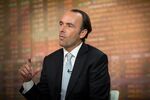 Hedge fund manager Kyle Bass appears to be wrapping up a generally unsuccessful patent-law assault on drug manufacturers. "In the end, lobbying and special interests pay," Bass told Bloomberg in a defeatist-sounding email. "Medicare and U.S. consumers pay the ultimate price for the evergreening of bad patents by the pharma cabal."
As Bass retreats, it's worth pausing to assess why his offensive, begun in early 2015, caused high anxiety in the drug industry. 
A Bass-sponsored group called the Coalition for Affordable Drugs targeted 14 medicines, using a special procedure established by a 2012 patent-reform law. Congress intended the procedure, known as inter partes review (IPR), as a tool for tech companies fending off patent "trolls," outfits that acquire patents and threaten litigation as a way of obtaining cash settlements.
IPR proceedings, which take place at the U.S. Patent and Trademark Office rather than in federal court, offered tech companies several advantages when trying to knock out trolls' patents. For example, in U.S. district court, patents have a presumption of validity; in IPR proceedings, no such presumption exists. Moreover, in federal court, a patent challenger must prove the invalidity of patent claims by "clear and convincing" evidence, the highest burden of proof in civil cases; in IPR proceedings, the challenger has to show invalidity by only a "preponderance" of the evidence, a lower standard equivalent to "more likely than not."
In an unintended consequence of the 2012 law, Bass, founder of Hayman Capital Management, formed his coalition and started a campaign using IRP to target patents held by such manufacturers as Biogen Inc., Celgene Corp., and Bristol-Myers Squibb Co. Bass, who made a fortune on investments anticipating the 2008 mortgage crash, has declined to say whether he "shorted" his drug industry targets, betting on their stocks to decline. But he has said he challenged the drug patents for profit, although he contends his motives are irrelevant.
Bass created a stir because of his deep pockets and "novel approach to attack[ing] the pharmaceutical field," says Gerald Flattmann, a partner at Paul Hastings LLP, who successfully represented Acorda Therapeutics Inc. against a Bass IPR action concerning its multiple sclerosis drug, Ampyra.
All told, patents on only three of the 14 medicines Bass targeted at the patent office were invalidated, and those actions didn't lead to lower prices or sustained declines in company shares, according to Bloomberg.
In law, novelty may get people riled up, but it's no guarantee of success. At the same time, trying a case in court doesn't ensure a patent-holder victory. Having weathered the Bass attack, Acorda late last month saw four Ampyra patents thrown out in U.S. district court litigation against generic-drug makers. In light of the court defeat, the company has said it will cut payroll and shift its focus to other medications. 
Before it's here, it's on the Bloomberg Terminal.
LEARN MORE