Hedge Fund's Activist Plan for BHP Gets Cautious Reaction
By , , and
U.S.-based Elliott Capital seeks $22 billion oil & gas spinoff

One of biggest shareholders disagrees with plan to sell assets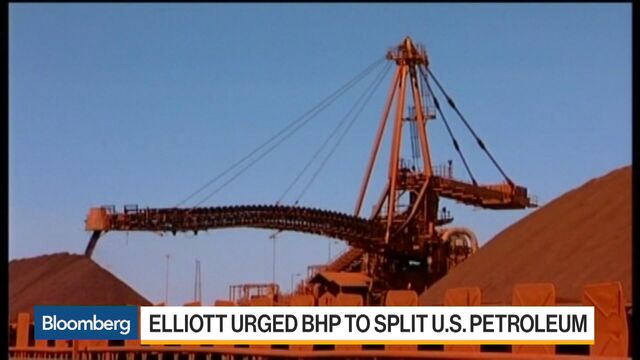 Hedge fund billionaire Paul Singer reckons his proposal to overhaul the world's biggest mining company will win over most of its shareholders. A few are already questioning the plans.

Singer's Elliott Management Corp., with a record of using stakes in companies as a platform to wring concessions for shareholders, on Monday issued a letter to BHP Billiton seeking a spinoff of the miner's estimated $22 billion of U.S. oil assets, higher returns for investors and changes to its stock exchange listings.
Publication of the 10-page letter follows last year's recovery in the mining industry from a crisis in 2015. BHP's profit jumped more than seven-fold in the fiscal first half as commodity prices surged and it cut costs and debt.

"A year ago was not the time to get clever with strategy, it was about getting debt down and surviving," said Bruce Williamson, chief investment officer at Integral Asset Management in Johannesburg, which owns BHP shares. "Now balance sheets are looking a lot healthier, so people are starting to look at where the long-term value lies."
Hedge Fund Digs Into World's Biggest Miner BHP: QuickTake Q&A
Elliott Management, overseeing about $33 billion of assets, owns about 4.1 percent of BHP's London stock. The hedge fund said the mining company's management must review its proposals such as a sale of oil and gas business that would be "welcomed by an overwhelming majority of BHP's owners."
Biggest Shareholders
One of BHP's biggest shareholders disagreed with Elliott's strategy to sell the assets, saying it's better that the company remain diversified. A second investor, with about 0.5 percent, said they were skeptical about selling assets at this time after oil price declines. They declined to be identified as they weren't authorized to comment publicly on the proposals.
BHP, which is working with Goldman Sachs Group Inc. to respond to Elliott, said on Monday it had been in talks with the hedge fund for many months, and that the costs and risks associated with the proposals outweigh the benefits. It pointed to returns of $23 billion in share buybacks, and dividends of $56 billion since the mine operator's dual-listed structure was formed in 2001.
In a statement on Tuesday, Elliott said it was surprised by the "dismissive and premature" response from BHP to its plan, and called on BHP to seek the views of other shareholders.
Some Concerns
Wayne McCurrie, a fund manager at Ashburton Investment Management Co. in Johannesburg overseeing about $10 billion of assets including BHP shares, voiced concern over some of Elliott's proposals favoring dividend payouts over acquisitions, given the often large swings in commodity prices.
"Companies should try and smooth their earnings by diversifying their business," McCurrie said. "You can't smooth your dividends if you have volatile underlying earnings." He reserved judgment on the oil and listing proposals.
Other shareholders may see the benefit of the suggestion to list the mining company's oil and gas businesses on the New York Stock Exchange. On Monday, BHP rallied as much as 5.8 percent in London after the release of the letter, and closed at a three-week high. It fell 0.1 percent to close at 1,314.50 pence on Tuesday.
The letter "places a spotlight on BHP's U.S. onshore business and its place in the broader group," said Alon Olsha, a mining analyst at Macquarie Group Ltd. in London. "Further debate on that issue is certainly relevant to shareholder concern."
Activist Role
Elliott's move on BHP follows its activist role in aluminum-parts maker Arconic Inc., which split from Alcoa Inc. last year. Arconic on Monday rejected proposals by the fund and said customers support its strategy. The BHP letter also comes after last month's 2 billion pound ($2.5 billion) investment by billionaire Anil Agarwal in rival miner Anglo American Plc.
Pressure from such investors will ensure the focus of managers in the industry is fixed on investor returns, and on avoiding the kind of empire-building acquisitions in the past that have led to oversupply and under-performance.
BHP has "become a lot more disciplined on capital allocation," said Andy Forster, senior investment officer at Argo Investments Ltd., which manages more than A$5 billion ($3.7 billion) and holds BHP's Sydney-listed shares. It has "good, high-returning growth projects and we'd be happy for them to continue to invest in those, particularly at this point in the cycle."
— With assistance by David Stringer, and Perry Williams
Before it's here, it's on the Bloomberg Terminal.
LEARN MORE