markets
Billionaire Facebook Backer Buying Commodities That Made Him
By
Russia's Usmanov doesn't plan new investment in tech companies

Rebound in miners shows potential for returns in raw materials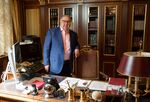 The Russian tycoon who made $1.4 billion with an early bet on Facebook Inc. and still owns a stake in Uber Technologies Inc. is returning to the sooty old commodities industry that first made his fortune.
Alisher Usmanov, 63, said he's been investing in natural-resource producers as they rallied last year following three years of declining prices. The Bloomberg World Mining Index of shares jumped 38 percent in 2016 as concerns eased over China's economy and prices for metals rose, with companies such as Fortescue Metals Group Ltd., BHP Billiton Ltd. and Anglo American Plc surging.
"Last year showed that commodities companies such as BHP Billiton, Fortescue and traditional companies of the oil and gas sector are also able to offer high returns on investment," Usmanov said in an interview in his Moscow office, without disclosing which companies he's bought stakes in.
The billionaire, who first made his fortune in iron ore and steel with his Metalloinvest Holding Co., is now the nation's fifth-richest man with a net worth of $14 billion, according to the Bloomberg Billionaires Index.
Part of that's down to a switch toward technology companies in the past decade, including a stake in Facebook that saw the value of his investment surge more than 10-fold and shares in Alibaba Group Holding Ltd. that delivered substantial returns when it went public in 2014.
Hundred Billion
Usmanov, who invested in Alibaba through DST Group funds, began selling his holding in 2015. DST first bought Facebook stock in 2009, when the company was worth about $6.5 billion. DST sold a $1.7 billion stake during Facebook's initial public offering in 2012 that valued the company at about $100 billion.
The billionaire, through DST and another $1 billion fund set up with partners, has bought into India's biggest domestic e-commerce company Flipkart Online Services Pvt., Chinese smartphone producer Xiaomi Corp., Ola Cabs in India and Didi Chuxing in China. He's previously invested in Twitter Inc. and Apple Inc.
Usmanov said that while he believes his current stakes in technology and online businesses will bring returns, he's not yet planning to buy more. Investments added to his portfolio in the past five to seven years will proceed. One example is Silicon Valley company Quanergy Systems Inc., a developer of sensors needed for self-driving vehicles.
Still, at the moment the tycoon is focusing on raising cash for new projects, not just in the tech industry, as well as cutting debt at some of his companies.
"The value of many assets in this sector is already overheated," he said.
It's not the first time Usmanov, who has a more than 30 percent stake in Arsenal football club, has speculated in commodity companies. In 2003, he bought a stake in British steelmaker Corus Group Plc that he sold for a profit the following year. He was also an investor in Nautilus Mineral Inc., the first company to try to mine metals from the Pacific Ocean floor.
(
Updates with Quanergy Systems investment in eighth paragraph.
)
Before it's here, it's on the Bloomberg Terminal.
LEARN MORE