Indonesian Bad Loans to Worsen, Bailout Agency Says
By and
Seen containing growth below 6 percent as lenders hold back

Commodity prices remain volatile, LPS's Damayanti says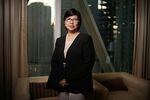 The non performing loan problem at Indonesia's banks is likely to get worse, keeping economic growth below 6 percent over the coming two years as lenders hold back from boosting credit, according to a top official at the country's deposit insurance agency.
"We haven't seen the bottom for NPLs because commodity prices are still volatile and we see uncertainties that can affect our domestic economy," Destry Damayanti, commissioner at the agency known as LPS, said in an interview at her office in Jakarta last week. "Banks are still in consolidation to resolve bad debts."
The bad-loan issue is proving to be a weak spot in Southeast Asia's largest economy, a factor behind the decision by President Joko Widodo to revise his projection for 2018 growth to 5.6 percent, toward the lower end of a previous range of 5.4 percent to 6.1 percent. The gross NPL ratio has hovered above 3 percent since the middle of last year, matching levels seen in 2011 and capping bank loan growth at 7.9 percent in 2016, the slowest pace since 1999.
Fitch Ratings said last month it's maintaining a negative outlook on Indonesia's banks, as it expects asset quality and profitability to remain under pressure during the next few quarters. Fitch predicted that the larger banks' non performing loan ratios will remain at an average 3 percent.
LPS, tasked with protecting client deposits in the event of a bank insolvency, has a war-chest of about 75 trillion rupiah ($5.6 billion), invested solely in government bonds. The fund has been built up with premiums collected from Indonesian lenders, in exchange for its guarantee on bank deposits up to a maximum interest rate of 6.25 percent.
Before becoming a LPS commissioner, Damayanti was chief economist at PT Bank Mandiri, Indonesia's largest bank by assets, where she co-founded the independent research think tank Mandiri Institute. She also led a panel that selected leaders of the Corruption Eradication Agency.
(
Corrects Damayanti's title in first and last paragraphs.
)
Before it's here, it's on the Bloomberg Terminal.
LEARN MORE