'Bear the Pain,' Egyptians Told, as Emergency Measures Declared
By and
New council set up to combat terrorism, granted sweeping power

Moves came after twin church bombings killed more than 40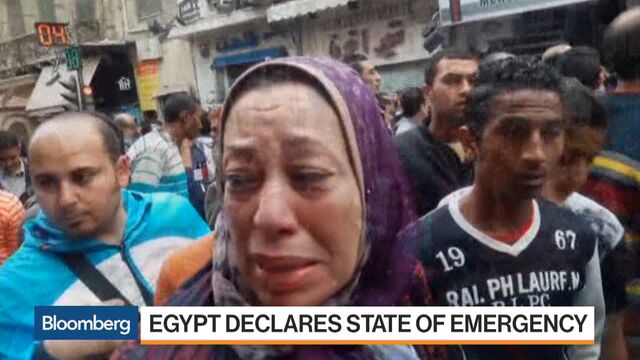 Egyptian President Abdel-Fattah El-Sisi declared a three-month state of emergency after the worst terrorist attack on civilians under his rule raised fears that Islamic State was planning to launch more assaults on major cities.
The radical group claimed responsibility for twin church bombings on Palm Sunday in the cities of Tanta and Alexandria, signaling an intent to expand its presence beyond the confines of the Sinai Peninsula. More than 40 people were killed, prompting El-Sisi to declare measures that included setting up a new, powerful, anti-terror body. The former defense minister-turned-president also lauded Egyptians for withstanding current security and economic challenges, and urged them to show even more patience.
"I ask Egyptians to bear the pain," El-Sisi said in a televised speech.
The attacks undermined an image that the president and his supporters have cultivated since he led the ouster of Islamist President Mohamed Mursi in 2013 -- that of a career military officer capable of restoring security and crushing terrorism. The measures that he's announced were also met with skepticism from analysts and rights groups who say security forces already enjoy sweeping powers against militants and political dissidents alike.
The emergency measures, which were approved by cabinet and will take effect on Monday, are a "symbolic and a desperate move to try and convey that they're taking 'decisive' action," said Mokhtar Awad, a research fellow at George Washington University's Program on Extremism. "The reality is that security in Egypt is de facto unrestricted by any laws affecting how they're prosecuting their campaign against militants."
The attacks Sunday were the deadliest strike on the country's Christian minority since El-Sisi was elected in 2014. At least 27 people were killed and more than 70 wounded in the first blast in a Tanta church. A second explosion at the entrance of a Coptic cathedral in the Mediterranean city of Alexandria left at least 17 others dead, officials said.
Egypt's militant threat exploded after the 2013 military-backed popular uprising against Mursi and the deadly crackdown on his Muslim Brotherhood group that followed. The expansion of the attacks outside Sinai and, according to Egyptian media, a new focus on targeting Christians have only proven the jihadists' resilience despite the ongoing offensive.
El-Sisi said the new anti-terrorism body will be granted the authority to take whatever action is needed to "control the whole situation, whether it's related to the media, the judiciary, legal and religious discourse."

Trump Offers Support
The bombings came less than a week after El-Sisi met President Donald Trump at the White House, where he was praised for his efforts to fight terrorism and to implement economic reforms. Trump spoke with the Egyptian leader by phone to express his condolences and offer support, the Egyptian presidency said in a statement.
The violence against civilians also dealt the president a fresh blow at a time when impatience is mounting with the pace and impact of economic reforms.
November's decision to abandon currency controls helped to secure a $12 billion International Monetary Fund loan and attract foreign investors. Yet it has also caused the pound to lose half its value against the dollar, sending prices soaring. Annual urban inflation soared to almost 31 percent in March.
Tourism Suffers
Tourism, a main foreign currency earner for Egypt, has taken a beating, with the downing of a Russian passenger jet near the Red Sea resort of Sharm El-Sheikh killing 224 people in 2015 leading to a sharp drop in arrivals and revenue. A deadly bombing at the Cairo cathedral in December killed at least 25 worshipers. Both attacks were claimed by the Islamic State's local affiliate.
The latest attack are embarrassing for the government because critics could argue that it should have been better prepared given that violence against Copts is common in Egypt, Hani Sabra, head of the Mideast and North Africa practice at the Eurasia Group consultancy, said in a report. But they are unlikely to upend planned reforms such as further fuel price increases, he added.
"What the authorities are more sensitive to than attacks on Coptic Christians is massive anti-government protests by middle class Egyptians -- their core constituency that provide the state legitimacy," he said. The attacks "will make the military and broader security establishment very skittish, but will not force a major course correction on the economy unless it translates into broader unhappiness with the government's performance."
"In the short term, it probably won't," Sabra said.