markets
Low U.S. Jobless Rate May Tempt Fed to Rethink Wage-Gain Trigger
By
Fed could lower its 4.7% estimate of ideal unemployment level

Some economists counsel patience, citing ample wage increases
The U.S. jobs report on Friday provided Federal Reserve officials with a surprise. Unemployment in March had already declined to the level they'd expected it to hit by the end of 2017.
That combined with what some economists viewed as another head-scratcher. Even as unemployment fell to 4.5 percent, its lowest level in almost 10 years, wages remained on just a gentle upward path. Average hourly earnings rose 2.7 percent year-on-year, essentially the same as the average over the previous 12 months.
How policy makers react depends on how they unravel that riddle. If they conclude that it's only a matter of time before falling joblessness triggers a stronger response in wages and prices, the Fed may be inclined pick up the pace of rate increases. Their current set of projections points them toward three total hikes this year, including a March move already in the books.
But there's another option. They could decide to lower their estimate for the level at which unemployment becomes inflationary -- the so-called non-accelerating inflation rate of unemployment, or Nairu. That would justify sticking to their current outlook for rates.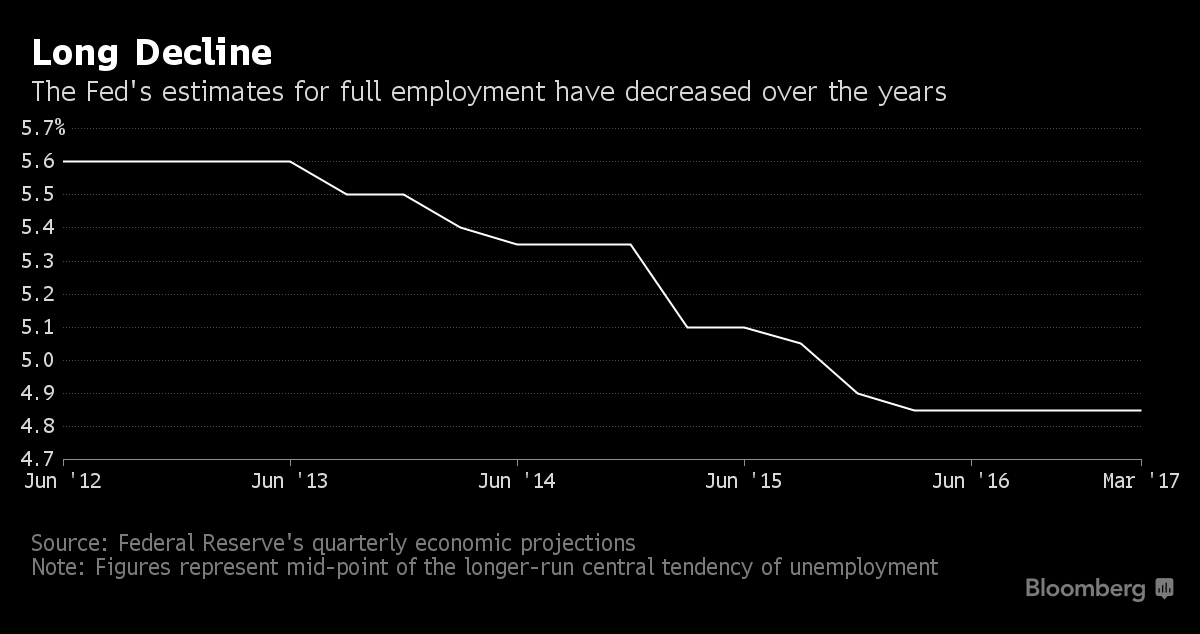 "There's a good chance we'll see them revising the Nairu downward" when Fed officials submit new projections in June, said Thomas Costerg, senior U.S. economist at Standard Chartered Bank. "The Fed is flying a bit in the dark on Nairu. The canary in the coal mine is wage growth, and the fact is wage growth remains tepid."
It wouldn't be the first time central bankers shifted that estimate.
Nairu is the term now in fashion for what Nobel Prize-winning economist Milton Friedman first described in 1968 as the "natural rate of unemployment." First thought of as a fixed level, Nairu is what economists now see as a trigger point that can move substantially over time. As recently as 2013, Fed officials estimated Nairu in the U.S. around 5.6 percent.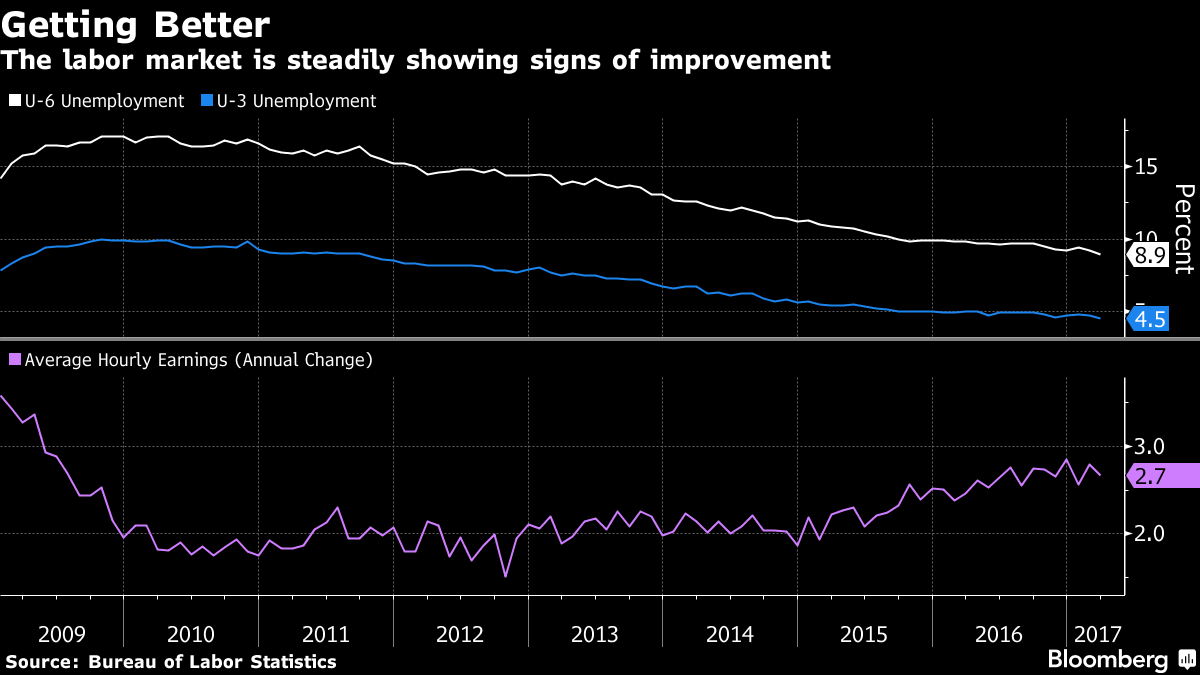 After unemployment hit its Great Recession peak of 10 percent in 2009 and kept on falling without triggering much movement in inflation, they revised their estimates downward. Expressed in Fed projections as the "longer-run" estimate for unemployment, the median level of their estimates now sits at 4.7 percent.
"They've already overshot on their measure," said Allen Sinai, president and co-founder of Decision Economics in New York who also thinks Fed officials will ratchet down their estimates in June.
Other economists, however, disagreed.
"Inflation doesn't jump back to normal as soon as you hit Nairu," said Ethan Harris, head of global economics research at Bank of America Merrill Lynch in New York. "The current period looks very similar to what happened in the late 2000s and the late 1990s. In each case, unemployment went below Nairu and you got a very gentle acceleration in inflation."
Neither Harris nor Michael Feroli, chief U.S. economist at JPMorgan Chase & Co. in New York, thought the Fed would respond to the new data by lowering their estimate for Nairu.
"Wage growth isn't strong, but I think it's very hard to look at the chart of average hourly earnings and not see an acceleration from the 2.0 percent rate that prevailed from 2010 to 2015," he said.
Before it's here, it's on the Bloomberg Terminal.
LEARN MORE