politics
Venezuela Steps Up Harassment of Opponents as Protests Rise
By and
Former presidential candidate says was disqualified for 15 yrs

Opposition leaders called on Venezuelans to step up protests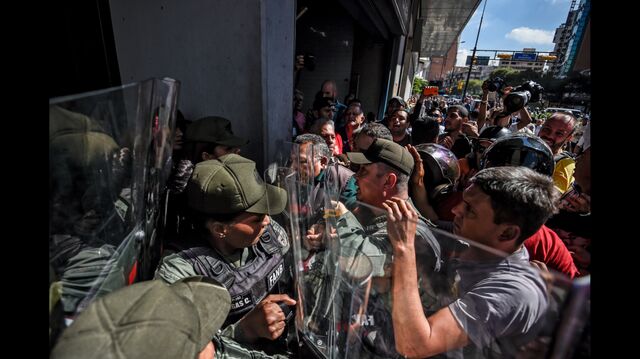 Venezuela's embattled socialist government stepped up its campaign against the opposition by banning Henrique Capriles, two-time presidential candidate and governor of Miranda state, from holding public office. The opposition responded up calling on Venezuelans to step up protests.
"I am informing the country and international community that they are notifying me at the moment of a disqualification for 15 years," Capriles wrote on Twitter Friday. A spokesperson for the Comptroller's office, speaking on condition of anonymity, confirmed the decision without providing details.
President Nicolas Maduro's opponents have rallied their supporters on the streets in recent days after the country's top court tried to quash the nation's opposition-controlled congress. One protester was shot and killed Thursday in a clash with the National Guard and police after a thousands rallied in the capital earlier that day. The opposition wants the authorities to hold fresh elections and purge institutions of socialist party loyalists.
The 44-year-old governor is one of the most visible faces of Venezuela's fractured opposition coalition. He challenged Hugo Chavez in his last presidential bid in 2012 and less than a year later, following Chavez's death, he squared off against the late socialist's hand picked successor -- Maduro -- losing by less than two percentage points in a widely contested election.
'Take to the streets'
Speaking at a news conference in his home state of Miranda Friday evening, Capriles said the government's decision to ban him "gives more reason, more strength to take to the streets of Venezuela," adding that he would use all legal measures to challenge the ruling.
"The only disqualified one here is Nicolas Maduro," he said, flanked by members of the opposition of alliance.
Capriles is not the first prominent politician to be disqualified by the ruling socialists. In 2008, the comptroller banned Venezuela's most renowned jailed opposition figure, Leopoldo Lopez, from holding office for a decade on corruption allegations. Lopez, then mayor of an upscale Caracas district, had his eyes set to run for the mayoralty of the entire capital, a position considered second only to the presidency.
Already though, opposition allies called on Venezuelans to rally around Capriles.
"The dictatorship wants to choose its own opposition," National Assembly Vice President Freddy Guevara wrote on twitter. "Are we going to let them? No! Tomorrow we'll press on!"
Long seen as one of the more moderate voices in the opposition alliance, Capriles has taken a much more strident tone in recent weeks, joining the demonstrations and traveling abroad to met foreign leaders critical of the Maduro government.
See more: Why Latin America Is Moving Away From Populism (Video)
For months rumors have swirled that the ruling socialist party was looking to arrest Capriles or hamstring him legally. On Monday, Venezuelan Interior Minister Nester Reverol demanded that authorities open an investigation into the opposition leader for alleged links to "acts of violence" that occurred in last week's protests.
Speaking at a news conference after a large rally in eastern Caracas yesterday, Capriles said he would not hide from any detention order.d
The Venezuela government isn't just clamping down on Capriles. The head of a small, conservative opposition party took refuge in the Chilean Embassy this week after being called to appear in a military court for alleged treason, while local rights groups say over 80 protesters have been arrested across the country since the wave of demonstrations began last week.
— With assistance by Fabiola Zerpa
(
Updates with Capriles comments beginning in fifth paragraph.
)
Before it's here, it's on the Bloomberg Terminal.
LEARN MORE