Sorry, Bond Bulls. March Jobs Report Doesn't Mean You're Winning
By and
Yields fall to 2017 low and rebound, even after payrolls miss

Focus on productivity growth, not job growth: Janus's Gross
The world's biggest fixed-income managers aren't ready to give in to the bond bulls just yet.
Even after Friday's weaker-than-forecast U.S. payrolls report, Treasuries failed to sustain a rally that briefly pushed yields to 2017 lows during the New York session. The day's fluctuations merely leave 10-year yields at the bottom of a range they've been trapped in all year -- and above their lowest year-to-date closing level of 2.31 percent.
Investors and advisers at Allianz SE, BlackRock Inc. and Janus Capital Group Inc., which oversee almost $6 trillion combined, see limited potential for lower yields as traders debate the fate of the global reflation trade. The March labor data provided some support for a rosy outlook, in the form of on-target earnings growth and the lowest unemployment rate in almost a decade.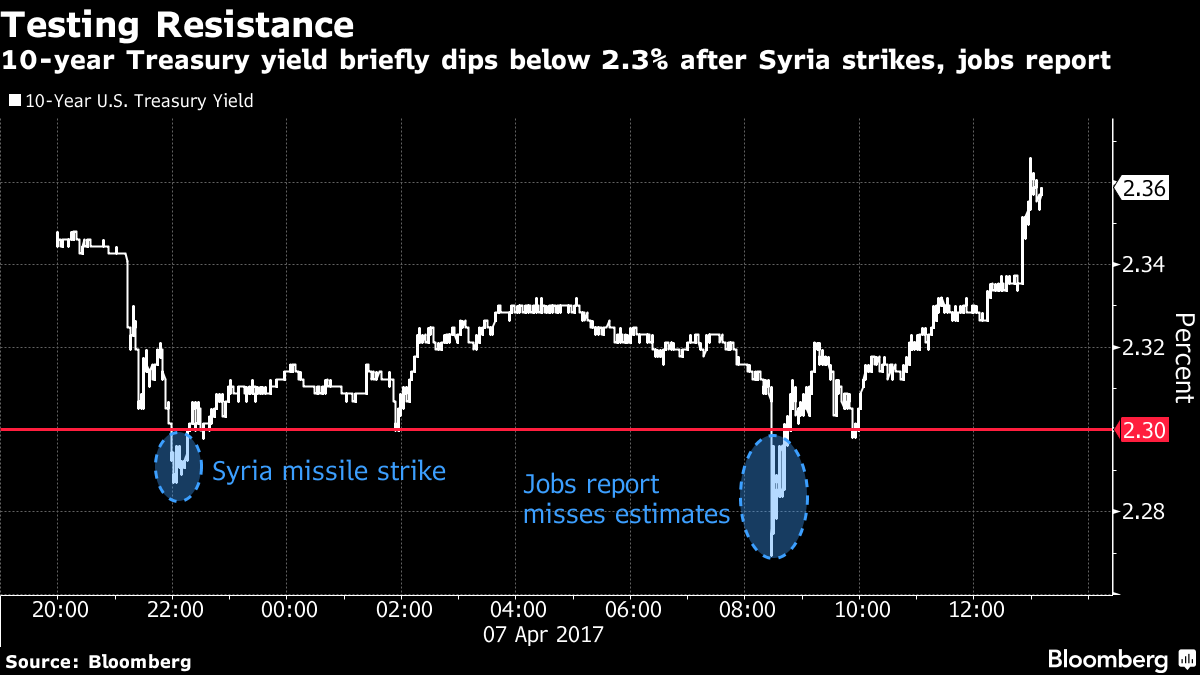 "Interest rates themselves are already very, very low, and I wouldn't expect something like this to continue to push interest rates lower," said Bill Gross, who runs the $1.9 billion Janus Global Unconstrained Bond Fund. "The focus really for economic growth going forward is not necessarily job growth but productivity growth."
Treasuries are set to wrap up a four-week rally that's brought them back from the brink of a bear market, at least as defined by Gross back in January. That's when he said 10-year yields would have to hold above 2.6 percent on a weekly or monthly basis to mark the beginning of sustained losses. Last week, he said that level could come "under siege" if other central banks step back from quantitative easing or the U.S. advances fiscal stimulus. Neither development appears imminent.
The bond market has shown greater skepticism toward the reflation trade than equities, with U.S. rates mostly unchanged through the first quarter even as stocks surged. The Fed's signals that it intends to raise rates further have helped put a floor under yields.
Fed View
Even after the March data miss, bond traders left their Fed bets mostly unchanged. Implied rates on fed fund futures fully price in a September hike, and don't rule out the possibility that the Fed could raise rates in June and again in December.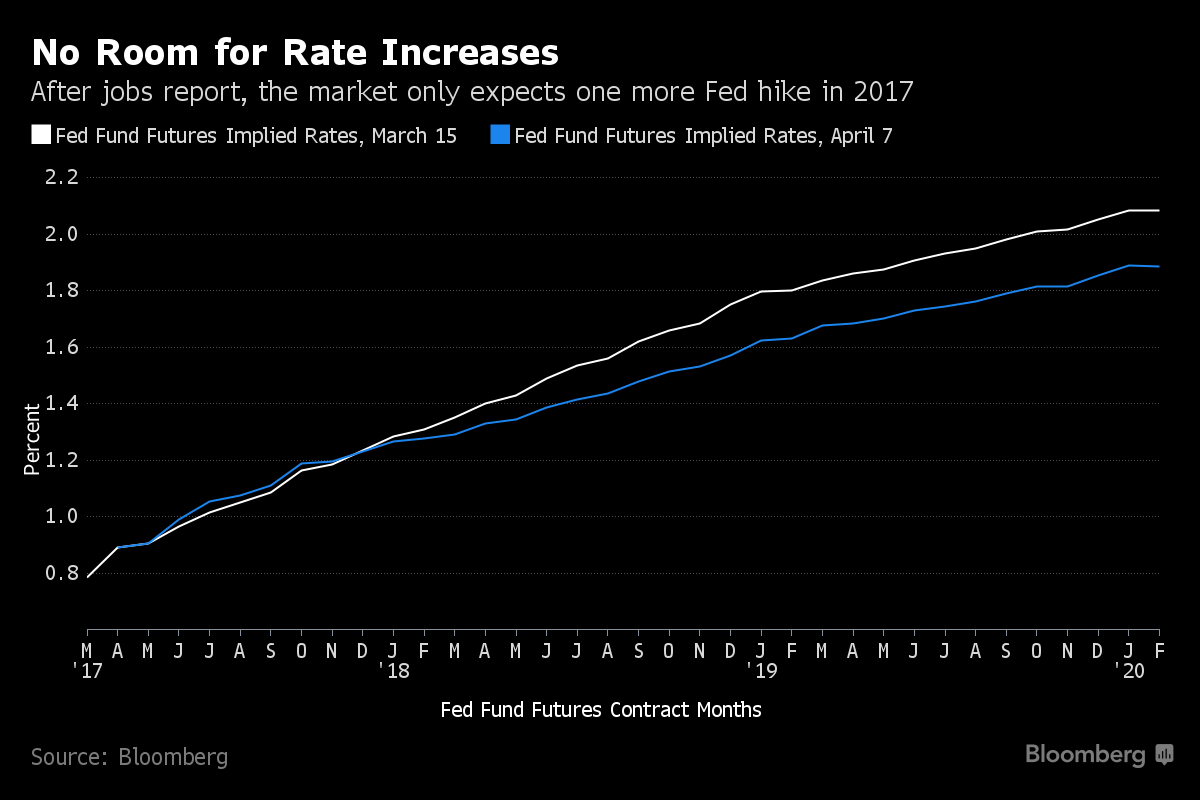 "This does not change the Fed's trajectory -- the economy is growing at a decent level," said Rick Rieder, chief investment officer of global fixed-income at BlackRock. "Interest rates can move higher."
Even as yields edged higher on the day in the New York afternoon, the benchmark 10-year note is closer to overbought territory than oversold, according to relative strength index analysis.
"At this stage, I would be careful going long the bond market," said Mohamed El-Erian, chief economic adviser at Allianz and a Bloomberg View columnist. He said he wouldn't call March "a weak jobs report," given recent levels of employment gains and wage growth.
— With assistance by Alex Harris
Before it's here, it's on the Bloomberg Terminal.
LEARN MORE