markets
Politics Eclipse Carry as Ruble Tumbles After U.S. Syria Strikes
By and
Russian currency sinks most among global majors as risks mount

Investors can no longer close eyes to geopolitics: Sputnik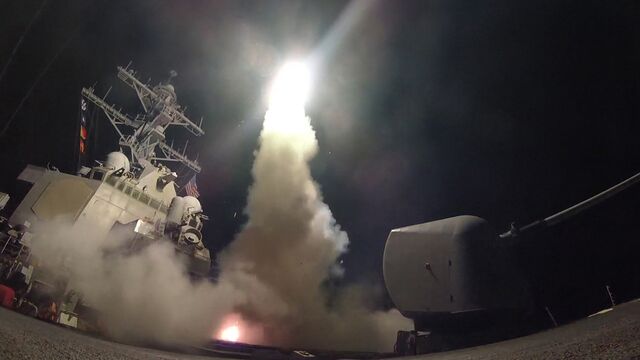 Russia's ruble fell the most among major global currencies on Friday and the nation's borrowing costs climbed after U.S. airstrikes on Syria dimmed hopes for improved ties under Donald Trump.
The Russian currency weakened 1.4 percent against the dollar by 6:20 p.m. in Moscow, the most in almost a month, after Russian President Vladimir Putin slammed the attacks as an "act of aggression." Stocks posted the steepest drop worldwide, credit default swaps climbed for the first time this week, and yields on local-currency government bonds advanced.

Rebounding oil prices and attractive real interest rates have made the ruble one of the best-performing currencies in developing nations this year amid a global hunt for higher returns. Russian markets rallied after Trump's November election, but the strikes, in response to Syrian leader Bashar al-Assad's alleged use of poison gas to kill scores of civilians, show the chances of a detente are fading.
Read More: U.S. Launches Missile Strike on Syria in Response to Gas Attack
"Geopolitics is driving up the risk premium," Alexander Losev, chief executive officer at Sputnik Asset Management in Moscow, said by email. "Now the old difference in interest rates and stable oil prices are no longer sufficient to close your eyes to the political and geo-economic events and continue with the carry trade."
The ruble traded at 57.1725 per dollar, paring its rally this year to 7.2 percent. Brent crude, the nation's biggest export earner, jumped as much as 2.2 percent after the strikes.
The ruble carry trade has handed investors returns of 9.7 percent so far this year, the most after Mexico's peso. In a carry trade, investors borrow where rates are low and invest in the currencies and securities of countries where rates are higher.
Five-year credit default swaps rose 8 basis points to 170, the first increase since March 31.
The 50-stock Micex Index dropped 1.7 percent, its deepest slide in a month as Sberbank, the nation's biggest lender, and Lukoil, the largest non-state oil company, led declines. The dollar denominated RTS gauge fell 3.1 percent.
Trump's military move, which he said was a necessary response to an "affront to humanity" after more than 70 people died in a poison gas attack in northwest Syria on Tuesday, puts the U.S. and Russia into a risky stand-off as Moscow backs Assad after six years of civil war. Russia said it would suspend a cooperation pact with the U.S. aimed at avoiding incidents between the two countries' planes in the crowded airspace over Syria by establishing direct hotlines between their militaries.
"Trump needed to prove himself and, most likely, this won't lead to a direct confrontation between Russia and the U.S," said Alexey Tverdohleb, a fixed-income trader at Bank Zenit in Moscow. Still, should the situation develop for the worse, "there will be a major repricing of risk," he said.
Before it's here, it's on the Bloomberg Terminal.
LEARN MORE