Prosecutors Press Case Against Samsung Heir in Bribery Trial
By and
Lawyers deny bribery charges in Lee's first court appearance

Trial overshadows Samsung earnings, S8 smartphone preorders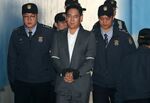 South Korean prosecutors laid out their case against Samsung Electronics Co. Vice Chairman Jay Y. Lee by revealing how a top government aide documented instances of alleged bribery in 39 handwritten notebooks.
Wearing a gray suit without a tie, Lee listened calmly as prosecutors took an hour to outline charges against him during his first court appearance in the graft scandal that cost South Korean President Park Geun-hye her job. Prosecutors said notebooks from An Chong-bum, a former chief secretary for economic affairs and policy coordination, back claims Lee ordered money funneled to a friend of Park to secure government backing for a pivotal 2015 merger.
Dubbed the "trial of the century," the proceedings threaten to expose a complex web of ties between the government and the nation's largest corporations, and have cast uncertainty over succession at South Korea's biggest conglomerate. Detained outside the capital since February, Lee must win the trial to resume guiding a $260 billion corporation trying to salvage its reputation after a series of exploding phones forced the eradication of the marquee Note 7 line.
Friday's hearing at Seoul's Central District Court coincided with the release of Samsung's best quarterly earnings in almost four years. The world's largest maker of smartphones reported a better-than-projected 48 percent rise in operating income to 9.9 trillion won ($8.7 billion) for the March quarter, fueled by robust sales of memory chips and displays. The trial also overshadowed the start of pre-orders in Korea for the S8 -- Samsung's answer to Apple Inc.'s iPhone.
For a timeline on Lee's legal issues, click here
"As long as Lee is locked up, it won't be easy for Samsung to restore its reputation completely," Koo Chang-hwan, chief of the Korea Reputation Center, said before Friday's hearing began. "Both at home and abroad, there's nothing worse than menacing woes surrounding a" corporate leader.
While the presiding judge asked Lee if he had anything to say, the billionaire remained silent.
The broader electronics-to-energy Samsung group has been in transition since Lee's father suffered a crippling heart attack in 2014. The prolonged absence of its de-facto head may further delay major decisions. Still, the company has said it's got a strong management team in place to run the business. And the company's shares have risen about 16 percent this year, about three times the gain in the benchmark KOSPI. On Friday, the stock was little changed.
Lee is the highest-profile business figure indicted in a sprawling investigation that's spurred outrage over "chronic corruption" in ties between government and family-run conglomerates. Special Prosecutor Park Young-soo has called the legal contest surrounding Lee South Korea's "trial of the century," given his global profile and the amounts of money involved. 
What's Behind the Samsung Bribery Allegations: QuickTake Q&A
Park indicted Lee in late February along with four other Samsung executives, but the 48-year-old heir was the only one to have been detained. The prosecutor accuses him of conspiring to transfer millions to entities controlled by the president's confidante, Choi Soon-sil. Those charges included allegedly currying support from the government-backed National Pension Service for a 2015 merger of Cheil Industries Inc. and Samsung C&T Corp. That deal -- which helped shore up Lee's control over Samsung -- was narrowly approved over the opposition of investor Paul Elliott Singer.
Watch This Next
Other counts against Lee include hiding assets overseas, perjury and hiding criminal profits, all related to the bribery case. Samsung said after his arrest that it disagrees with the special prosecutor's findings and that the court proceedings would "reveal the truth."
A verdict for Lee is expected by the end of May under a special prosecution law that calls for fast-tracking the case. Lee faces five years to life in prison if convicted. But under South Korea's three-tier judiciary system, Lee can turn to an appellate court and then the Supreme Court if he loses, with each court taking up to two months to deliberate.
(An earlier version of this story was corrected to show the prosecution cited 39 notebooks, rather than 39 notes, in the second paragraph.)
Before it's here, it's on the Bloomberg Terminal.
LEARN MORE