Fashion
H&M Tries on Multiple Personalities to Keep Growing
Arket, a high-end line of clothing and home goods, is the latest addition to the retailer's roster of niche brands.
By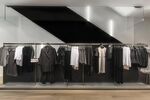 At the H&M store on Boulevard Haussmann in Paris, teens comb racks packed with velour tank tops as tourists load up on cheap jeans to a soundtrack of bouncy pop music. While the bustle and bargains once appealed to Pierrick Beringer, at age 35 he prefers quality to quantity, so these days he's more likely to turn the corner to a store called COS, where the pace is far calmer. "I like the shape," the hairstylist says, pulling a thick-cotton T-shirt from a display. "And it's less well-known, so you don't see it everywhere."
For H&M, that's not a problem, because both establishments are creations of Hennes & Mauritz AB. Faced with falling profit amid competition from rivals such as Zara and Primark Stores Ltd., as well as online players like Amazon.com Inc., the Swedish retailing juggernaut is beefing up its portfolio of niche brands. H&M is betting outlets such as COS can help expand its appeal beyond budget-conscious young shoppers. The plan is to add 80 stores from the company's half-dozen smaller brands this year, vs. 350 more H&M outlets. That includes a new concept called Arket, a higher-end shop with clothing, home goods, and a cafe serving Scandinavian-inspired dishes. The first Arket store—the name means "sheet of paper" in Swedish, a reference to starting with a blank slate—is scheduled to open this fall on London's Regent Street, followed by branches in Brussels, Copenhagen, and Munich. "This isn't like anything else we have," says H&M Chief Executive Officer Karl-Johan Persson. "It's a completely different expression."
The push beyond the flagship brand comes as H&M's margins have been narrowing. Goods from Asian suppliers, priced in the strengthening U.S. dollar, have become more expensive, pushing net profit down to 9.5 percent of sales today, vs. almost 26 percent in 2007. And with increasing competition, H&M has had to resort to deeper discounts to clear its shelves. The company's shares in March fell to their lowest level in four years after H&M reported inventory levels were up 30 percent year-on-year. "When you've got a very mature brand, you reach a point where it becomes challenging to keep up growth," says Maureen Hinton, an analyst at GlobalData Plc in London. "You've got to find new markets and new customers."
That has spurred the multibrand effort, which largely emulates a strategy the world's No. 1 fashion retailer, Inditex SA, has pursued since 1991. The Spanish company owns Zara and seven other brands including the Italian-themed Massimo Dutti, teen-focused Bershka, and Oysho lingerie stores. While Zara continues to account for two-thirds of Inditex revenue, it comprises just one-third of the company's 7,300 stores. H&M, by contrast, only started diversifying in 2007, when it created COS—or Collection of Style. It added three more youth-oriented concepts in 2008 with the purchase of a Scandinavian retail group, then introduced the premium women's wear line & Other Stories in 2013. Those brands today make up less than 10 percent of the company's almost 4,400 stores. While H&M doesn't break out its revenue, Bryan, Garnier & Co. analyst Cédric Rossi says sales from the smaller brands account for about 5 percent of the total.
The new concepts aren't a bad idea, Rossi says, but it's more important to fix the flagship brand. He says Zara is more fashion-focused, and with factories in or near Europe, Inditex can respond faster to runway trends than H&M, which ships most of its goods from Asia. "What's absolutely necessary is to return to growth in existing locations at H&M," Rossi says. "Without this, the business isn't sustainable."
H&M says it's working to reduce lead times so fresh products get to stores more quickly. And it says it's automating warehouses and improving data collection so shortages and overruns can be addressed more quickly—reducing the need for margin-busting markdowns. "We haven't been as precise, exact, and flexible as we could have been" in logistics, says CEO Persson. "We see big improvement potential."
Longer-term, though, it's smart to also find a broader customer base, says Anne Critchlow, an analyst at Société Générale SA in London. With COS, & Other Stories, and now Arket, the company can target different niches at the top end—where customers have more resources and prices are higher, she says. Dresses at COS start at €55 ($59), compared with €10 at H&M, while the cheapest jeans at COS are €69, vs. €20 at H&M. "Young value fashion has become extremely crowded," Critchlow says. "Lifestyle retailers have less competition."
The bottom line: As competition heats up and margins narrow, H&M is emulating the multibrand store strategy of its rival Inditex.
Before it's here, it's on the Bloomberg Terminal.
LEARN MORE