Cohn Says Separating Banks' Business Lines Would Boost Lending
By and
White House economic advisor calls for new Glass-Steagall Act

Fed appointments will help roll back financial rules, he says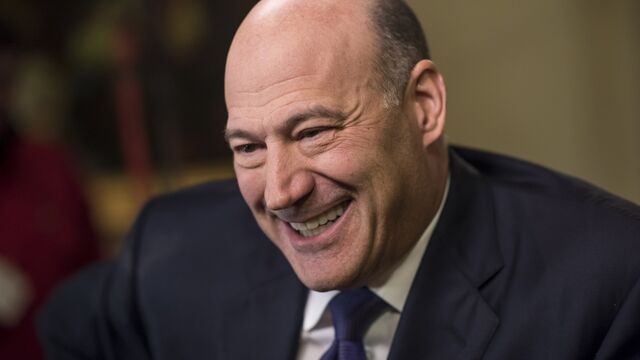 White House economic adviser Gary Cohn said Friday that separating Wall Street's investment and retail banking operations would boost lending by eliminating the need for burdensome regulations.
Cohn, a former Goldman Sachs Group Inc. executive, said he supports President Donald Trump's call for a new version of the Depression-era Glass-Steagall Act, which kept bricks-and-mortar lending separate from investment banking.
"If we come up with a 21st Century, modern Glass-Steagall, we may be able to tailor regulation for different aspects of the financial markets and different aspects of the financial institutions and that would allow banks to get lending more aggressively to small- and medium-sized companies," Cohn said in an interview with Bloomberg Television on Friday.
Cohn didn't provide specifics of what an updated version of Glass-Steagall would look like. He said it's consistent with the administration's efforts to decrease banking regulation and spur economic growth. Cohn's comments came after he told lawmakers in a private meeting Wednesday that he backed the separation of banks' business lines.
A group of senators Thursday proposed legislation that would separate consumer and investment banking. Similar bills haven't gained traction in previous years.
Cohn said that the White House is working to fill vacancies for key economic posts, including on the Federal Reserve Board. He said it's likely that some of the Fed Board positions will be announced in the "very near future." Those appointments will help the administration roll back financial regulations, he said.
There are are three openings on the seven-member Fed Board, including the vice chairman of supervision, a high-profile job that handles regulation of the biggest Wall Street banks.
Before it's here, it's on the Bloomberg Terminal.
LEARN MORE