Sports Gambler's Insider Case Proves Good Bet for Prosecutors
By
Billy Walters conviction reverses bad luck in Wall Stret Cases

Trial linked Dean Foods trades to golfer Phil Mickelson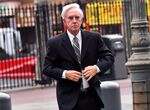 Las Vegas sports-betting legend Billy Walters passed along one "sure winner" inside stock tip to Phil Mickelson in 2012, allowing the golf champ to make almost $1 million and repay a gambling debt to him.
Five years later, the 70-year-old gambler could face years in prison after a Manhattan jury found him guilty of making $43 million thanks to another golfing buddy who was the source of boardroom secrets. Mickelson, meanwhile, will be taking swings in third-round play at the Masters tournament on Saturday.
Friday's verdict followed a four-week trial that spotlighted a seamy world of gambling debts, stock tips delivered on burner phones and charity money spent on prostitutes. The trial also offered a glimpse of a rarefied world where corporate executives mixed with professional athletes on some of the country's top golf courses. In addition to Mickelson, billionaire investor Carl Icahn was among the friends of Walters and jurors heard tales of private jets, Hamptons vacations and trips to Monaco and Paris.
For prosecutors, the verdict was a dramatic comeback after trial wins in a crackdown on Wall Street fraud were cast out in 2014 by an appeals court and the rules re-written to favor defendants.
The verdict "shows the government can make a case based on some financial-friendship interaction and doesn't need to have a bag of cash exchanging hands," said Peter Henning, a law professor at Wayne State University in Detroit and former prosecutor. "This shows the government can still bring the golfing-buddy type of insider trading case and continue to be aggressive."
Walters' Broker Saw Accused Inside Trader as 'Babe Ruth of Risk'
Prosecutors won their case calling as their star witness Tom C. Davis, the former chairman of Dean Foods Co., who testified he became a "virtual conduit" of inside information to Walters, feeding him tips learned from his own board meetings.
Debts, Divorce
Davis, whose testimony spanned four days, told jurors he passed tips about the dairy company to Walters because he was "enamored" of him. Walters in turn loaned him almost $1 million that he needed to pay off gambling debts, cover failed investments and finance a bitter divorce. Davis, 68, pleaded guilty to a dozen separate crimes and agreed to cooperate with prosecutors in a bid for leniency when he's sentenced.
Davis passed tips to Walters via text messages on secret phones given code names such as the "Bat Phone," prosecutors said. For at least six years, Walters traded on the tips, making a profit or avoiding a loss ahead of company news. Davis admitted that, after FBI agents questioned him in 2014, he tossed that phone into a creek, where it was never found.
One juror said after the verdict that call logs helped convince him that Davis and Walters had been in constant contact using burner phones just before important company announcements, corroborating Davis's account.  
"It all came down to the trading and those phone records," said the juror, a maintenance worker who lives in Manhattan who declined to give his name. "While both sides in the case did a good job, the paperwork was too great."
Davis's estranged wife, Terie Davis, also helped prove the case, the juror said. She said she'd seen her husband using the phone and, fearing he was cheating on her, searched the call log. She said she was relieved to discover he had been using the phone to text Walters.
"She was important because she told us that, yes, the phone existed," said the juror.
10 Counts
The jury convicted Walters of all 10 counts, including conspiracy, wire and securities fraud. When he's sentenced July 14, he could face a prison term of as long as 20 years on the most serious charge.
Mickelson wasn't charged with wrongdoing although he agreed to repay the profit he made with tips from Walters.  Trial evidence included that Walters texted Mickelson in July 2012 ahead of a lucrative spinoff by Dean Foods. Mickelson, who had never bought the company's shares, made $931,000 when the stock surged when it was announced. He used that money to repay a gambling debt to Walters, transferring $1.95 million, according to records shown jurors.
The golfer was listed on a list of potential witnesses for Walters, but wasn't called after making it clear to lawyers he would invoke his Fifth Amendment right against self-incrimination, an attorney for Walters told the judge.
Seven Homes
Barry Berke, Walters's lawyer, said he will appeal. Unless he's successful, Walters will be forced to walk away from Las Vegas-based conglomerate that includes golf courses, auto dealerships, car-rental agencies and a golf-vacation business, with total revenue of $500 million in 2013, according to testimony from his company's controller. Walters, who didn't testify at the trial, has said he owns seven homes and a $20 million jet.
Until Friday, Walters had been free on $25 million bond but had been permitted to travel on his private plane between New York City and Southern California, where he owns homes. After the verdict, U.S. District Judge P. Kevin Castel ordered Walters to be placed under house arrest at his home just north of San Diego, wearing an electronic bracelet and barred him from flying on his jet.
Walters, who didn't testify at the trial, shook his head and appeared shaken when the verdict was read. He has beaten the odds before. Born in Kentucky, the son of a professional gambler and a teenage mother, Walters began shooting pool -- nine ball -- at age 4 and by 10, he had progressed to gambling. Decades ago, he was acquitted of state gambling charges after a trial and won dismissal of state indictments accusing him of conspiracy and money laundering.
Walters, who had bragged that he never had a losing year wagering on football and basketball, was stunned by the verdict.
"If I would have made a bet, I would have lost," Walters told reporters as he left the Lower Manhattan courthouse with his wife, Susan, and his legal team. "I just did lose the biggest bet of my life. Frankly I'm in shock."
The case is U.S. v. Walters, 16-cr-00338, U.S. District Court, Southern District of New York (Manhattan).