Wall Street Doubts Trump Wants to Split Up Big U.S. Banks
By and
Revival of Glass-Steagall Act 'hard to envision,' analyst says

Depression-era banking legislation was repealed in 1999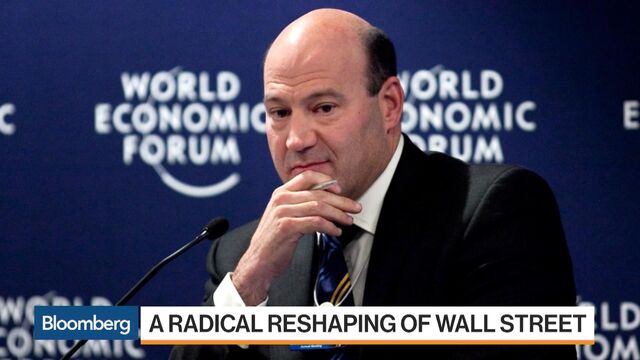 President Donald Trump and his advisers have vowed to bring back a Depression-era law that would cleave the biggest U.S. lenders in half by separating commercial and investment banking operations. Wall Street doesn't expect that to happen.
After chief economic adviser Gary Cohn reiterated the administration's stance toward the Glass-Steagall Act in a private meeting with lawmakers on Wednesday, analysts said they viewed any radical regulatory changes as unlikely. Shares of Bank of America Corp. and JPMorgan Chase & Co., which would be most affected by the rule, rose Thursday after Bloomberg first reported on Cohn's comments.
Reinstating Glass-Steagall, which was created after the banking crises of the 1930s and repealed in 1999, would require a rewriting of U.S. banking rules. The Dodd-Frank Act took more than a year of work by Congress. The Trump administration hasn't put forward a detailed plan and the revisions proposed by House Republicans don't involve the return of Glass-Steagall.
"Anything resembling Glass-Steagall is so far from happening that it's hard to envision," said Ian Katz, an analyst at Capital Alpha Partners LLC. "It simply isn't a priority issue in Congress."
The Republicans who control the House and the Senate want to loosen banking regulations, not make them stricter, Katz wrote.
Read More: Cohn's comments give Wall Street a 'headache,' Doll says
The Republican Party made restoring Glass-Steagall part of its platform, and Trump sometimes criticized the big banks during the campaign, saying "I'm not going to let Wall Street get away with murder." Since taking office, he's appointed Cohn and several other former Goldman Sachs Group Inc. bankers to top posts, and said that he'll look to JPMorgan Chase & Co. Chief Executive Officer Jamie Dimon for advice about regulatory reform.
Splitting up the banks would be "a major mistake," former Wells Fargo & Co. CEO Richard Kovacevich said Thursday in a Bloomberg Television interview.
"When we had Glass-Steagall, investment banks were by themselves, unregulated and they were a very important reason why crises occurred," Kovacevich said. "Why would we want to resurrect that?"
Treasury Secretary Steven Mnuchin said during his confirmation hearing that he opposes the old Glass-Steagall, but supports a "21st Century" version. He didn't elaborate on what he meant.
"If you've listened to all the rhetoric on regulation, we've no real guidance on where we are going," said Christopher Wheeler, an Atlantic Equities LLP analyst in London. "The uncertainty is immense and what you have to believe is that things will continue as they are."
Major Obstacle
The regulation might not mean that commercial and investment banks have to be separated, Cowen Group Inc. analyst Jaret Seiberg wrote in a report. Instead, the government could require that broker-dealers be subsidiaries of holding companies, rather than banks, he said. That would mean that the brokerage arm would have to be separately funded.
"Cohn was the most likely obstacle within the Trump White House," Seiberg wrote. "With him supporting Glass-Steagall's restoration, there is no one in the inner circle left to fight it."
Cohn's comments came in response to a question from Senator Elizabeth Warren, a Massachusetts Democrat and a persistent critic of the financial industry. When she introduced a 21st Century Glass-Steagall Act in 2015, Senator John McCain of Arizona was the only Republican who backed it.
"Cohn's comments certainly elevate the headline risk, but we believe it remains unlikely Congress would pass legislation reinstating Glass-Steagall," Edward Mills, an analyst at FBR & Co., wrote in a report.
— With assistance by Elizabeth Dexheimer, and Katherine Chiglinsky
Before it's here, it's on the Bloomberg Terminal.
LEARN MORE