Kraft's Failed Bid Jolts Unilever Chief Into Protective Revamp
By
Anglo-Dutch giant to sell spreads, review dual nationality

Dove owner to cut costs, buy back shares and lift dividend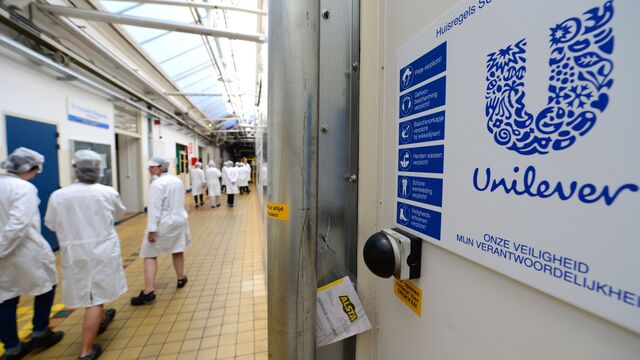 Unilever Chief Executive Officer Paul Polman is channeling an aborted takeover coup by Kraft Heinz Co. into some shock therapy of his own.
Acknowledging that the failed $143 billion bid had energized his company, Polman announced his most sweeping overhaul of the consumer-goods giant in a bid to protect its independence after being caught off guard by the U.S. rival's approach. 

After years of championing a long-term approach and avoiding the sort of radical moves demanded by shareholders seeking greater returns, Polman swung into action after Heinz's not-so-gentle nudge. Among the steps he announced: putting the ailing spreads business up for sale, boosting returns via buybacks and higher profitability goals, and reviewing the Anglo-Dutch company's two-country corporate structure.
"Everyone at the company from the board to the shop floor has come out of this process highly energized," Polman said on a call with reporters as the owner of Ben & Jerry's ice cream and Dove soap announced the results of a strategic review.
Read more: Gadfly: Unilever Doesn't Get It
Unilever shares were up 0.8 percent at 11:30 a.m. in London after falling as much as 2.3 percent. They've been trading near record levels after the Kraft Heinz approach and had gained 19 percent this year.
Spreads Unit
Polman's overhaul is "enough to support the recent rise of the stock, but that is not enough to support further rerating in our view," Natixis analyst Pierre Tegner said in a note.
While Polman responded to many of the evergreen demands of shareholders, he stopped short of a more radical overhaul, such as a complete split between the food and personal-care businesses. The two divisions complement each other by giving the company greater distribution scale in emerging markets, Polman said on a call with analysts.
While Kraft Heinz' overture was short-lived -- the suitor buried its plans after just two days -- it nevertheless had a profound impact on Polman, who was blindsided by the approach when it became public in February. Polman has contrasted his focus on good corporate citizenship and long-term returns with a demand for quick returns and cost cuts by Kraft's key shareholder, private-equity firm 3G Capital.
The spreads business, which also includes Stork and Country Crock, will be sold or spun off if the company can't find a buyer, Unilever said. The company has had "lots and lots" of approaches from private-equity firms and is confident it can sell the unit at a favorable price, Chief Financial Officer Graeme Pitkethly said by phone. The business is worth about 7.5 billion euros, Tegner said.

Unilever said it will combine its food and refreshments operations in a single entity in the Netherlands. The review of the Anglo-Dutch structure could simplify the company's legal status as both a public limited company in the U.K. and an NV, its equivalent in the Netherlands.
That framework is a legacy of a 1920s merger that combined a Dutch margarine maker with a British soap provider. The change could make it easier for Unilever to make big acquisitions as it bolsters its defenses against future takeover approaches, Polman said.
"It opens up the door for major M&A activity that our current structure actually prevents," the CEO said in an interview on Bloomberg TV.
Polman said he'd take a look at Reckitt Benckiser Group Plc's food business, which makes French's mustard and ketchup. That company said this week that it was considering a sale of the unit.
Companies like Unilever, Kraft Heinz and Reckitt are under pressure to cut costs as changing consumer tastes, including a growing preference for fresh foods over packaged staples, threaten growth and profit margins.
The changes at Unilever will result in some job cuts to senior and middle management, Pitkethly said, while the company also expects to wring savings from its procurement and marketing operations.
Advertising Cuts
"Restructuring and change is just a fact of life in our industry," Pitkethly said.
Unilever plans to reduce the number of advertisements it commissions by 30 percent, without specifying how much actual marketing spending will be cut. The company will show more of its best advertising for longer so as to not impact its brands, Pitkethly said on a call with analysts.
Unilever plans to buy back 5 billion euros ($5.3 billion) of stock. It raised its cost-savings target to 6 billion euros from 4 billion euros and said the dividend also will be increased by 12 percent. The company said it expects 3.5 billion euros of costs over 2017 to 2019 related to the efficiency measures.
The company set a 2020 target for a 20 percent underlying operating margin, up from 16.4 percent in 2016. Unilever also plans to borrow more, saying this level will give it flexibility for acquisitions or returning cash to shareholders.
"We're turning a crisis into an opportunity," Polman said on the analyst call, answering a question about his eight-year tenure. "My energy is there to do this as long as it will last."
Before it's here, it's on the Bloomberg Terminal.
LEARN MORE