Trump Hails 'Friendship' With China's Xi on First Day of Summit
By , , and
Trade, North Korea to top agenda at two-day meeting in Florida

Trump personally told Xi about Syria strikes, AFP reports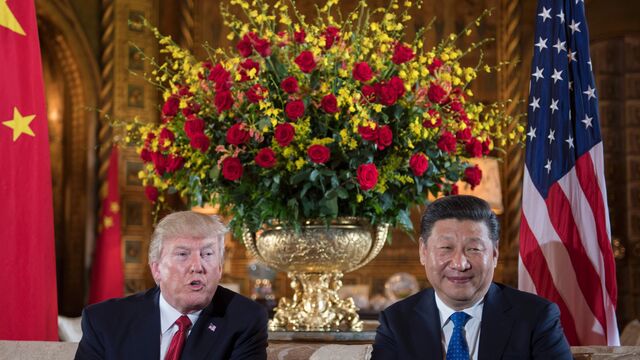 President Donald Trump said he forged a friendship with Chinese counterpart Xi Jinping, striking a positive tone in the early hours of the first-ever meeting between leaders of the world's two biggest economies.
"We had a long discussion already and so far I have gotten nothing, absolutely nothing," Trump joked on Thursday night at his Mar-a-Lago resort in Florida while dining with Xi, who arrived in the afternoon. "But we have developed a friendship. I can see that."
"I think, long-term, we are going to have a very, very great relationship and I look very much forward to it," Trump said.
Trump accepted Xi's invitation to visit China, the official Xinhua News Agency reported. Xi told Trump that there were "a thousand reasons" to make the China-U.S. relationship work, with "no reason to break it."


Trump's remarks came shortly before the U.S. launched a cruise missile strike against Syria after Bashar al-Assad's regime used poison gas to kill scores of children. Trump personally told Xi about the strikes on the Syrian airfield, Agence-France Presse reported. The U.S. leader had ignored a shouted question about Syria while he met with Xi.
The meeting is the first real test of the U.S. leader's campaign promises to win in negotiations with America's chief economic and military rival. After defeats on his travel ban and the Obamacare repeal, Trump wants to show progress countering North Korea's nuclear threat and opening Chinese markets to more U.S. goods in an effort to create jobs.
Xi's Concerns
Xi is looking to stave off a trade war as growth in the world's second-biggest economy hits the slowest pace in a quarter century. His goal is to maintain stability ahead of a once-in-five-year Communist Party gathering later this year that will see top leaders replaced, including potentially five of the seven most powerful figures in China.
Trump and Xi were first introduced to reporters with their wives, seated on couches in a palatial room at Mar-a-Lago. The two leaders then dined on Dover sole and New York strip steak, with club members seen sitting near them.

Analysts are closely watching the rapport that Trump and Xi can build to assess the future of the world's most important international relationship.
Tough Talk
"They should be happy if they get something fairly symbolic," said Jacques deLisle, who teaches Chinese law and politics at the University of Pennsylvania Law School. "Now, is that a real big victory? No. But I think the victory for everybody is to keep the relationship from going off the rails."
The Syria strike may further complicate the talks. In February, Russia and China vetoed together a United Nations resolution to impose sanctions on Syria over the alleged use of chemical weapons, the seventh time Russia has wielded a veto regarding Syria and the sixth time China has done so since the civil war began in 2011.
Trump entered the meeting talking tough. He said on Twitter last week that negotiations would be "difficult" due to U.S. manufacturing job losses he blames on China and the yawning trade deficit between the countries. He told the Financial Times in an interview that the U.S. could act on its own to stop North Korea from developing a nuclear weapon if China doesn't do more.
North Korea's pursuit of a nuclear missile capable of striking the U.S. is the most pressing issue in the relationship. Trump has vowed he will never allow the country to develop the capability, and administration officials briefing reporters said the clock has almost expired.
Korea Threat
Trump has repeatedly placed blame on China -- which provides crucial economic support to Kim Jong Un's regime -- saying that Xi can curb North Korea's nuclear ambitions but has refused.
China says that its leverage in North Korea is limited, and that Kim's regime is pursuing nuclear weapons to deter threats of a U.S. invasion. Beijing's leaders don't want to see the regime collapse, both to prevent a refugee crisis and avoid having an American ally on its border.
China has called for the resumption of diplomatic talks over the nuclear threat and has objected to the U.S. deployment of a missile-defense system in South Korea. It banned coal imports from North Korea earlier this year after the murder of Kim's half-brother, who South Korean intelligence said had been living under Chinese protection.
"They're not going to deliver Kim Jong Un's head on a platter," said Doug Paal, vice president for studies at the Carnegie Endowment for International Peace in Washington who served in the administrations of Ronald Reagan and George H.W. Bush, said of China. "But they are looking to see if there are areas where they can do more."
Economic Tensions
QuickTake Explaining Thaad and Why It So Bothers China
The two leaders will likely spend Friday in a series of working sessions. There may also be a stroll around the grounds of the beach-side resort, said administration officials who briefed reporters Tuesday on condition of anonymity.
The Chinese will try to deter Trump from following through on campaign promises to impose tariffs against China and label the country a currency manipulator, according to deLisle, the University of Pennsylvania professor. Chinese leaders may make offers to buy a large number of Boeing Co. airplanes or other investments, allowing Trump to claim he negotiated a deal to help the economy, he said.
"The Chinese know how to play this game," he said. "They understand the politics of the business relationship."
— With assistance by Margaret Talev, Shannon Pettypiece, Ting Shi, and Peter Martin
Before it's here, it's on the Bloomberg Terminal.
LEARN MORE