Draghi Struggles to Shut Down ECB Debate Weidmann Wants to Have
By
ECB president says it's not time to change the policy stance

Other council members have suggested shifting guidance
Mario Draghi may have hoped to put an end to the bubbling debate on the European Central Bank's exit strategy on Thursday. It didn't take long for a reminder of how complicated this will be.
Speaking in Frankfurt, the ECB president sought to quash the idea that policy makers will begin tightening policy sooner than planned and dispel doubts about the planned route to the eventual stimulus exit. Less than three hours later, Bundesbank President Jens Weidmann re-opened the issue, saying that a discussion on forward guidance is "legitimate."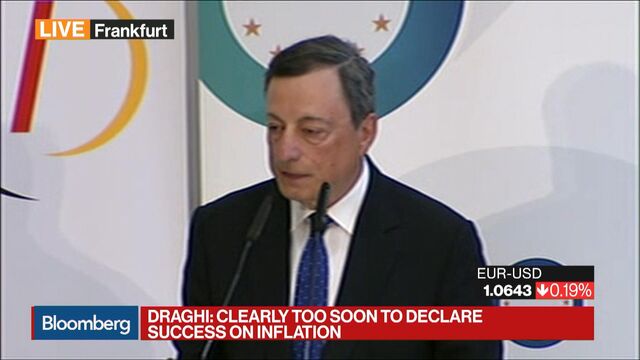 The conflicting signals are exactly what executive board member Benoit Coeure warned about last week when he said public disagreements may hamper the effectiveness of policy. But credibility can be also hurt if the policy steer doesn't evolve to reflect new economic conditions, he said.
Weidmann and a handful of other members of the ECB's rate-setting council have suggested tweaks to the bank's plans if inflation accelerates faster than anticipated. The ECB's official guidance, as it now stands, is to run QE until the end of the year and keep rates on hold until well after that. 
"I do not see cause to deviate from the indications we have been consistently providing," Draghi said at the ECB and Its Watchers conference. "We have not yet seen sufficient evidence to materially alter our assessment of the inflation outlook -- which remains conditional on a very substantial degree of monetary accommodation."
Click here to watch the ECB conference in Frankfurt and other events
Draghi is fighting to maintain the credibility of the central bank's policy commitments, which has been among his strongest assets in his long fight against deflation. The disunity within the ECB's ranks is nevertheless showing the limits of Draghi's control.
The euro dropped to the lowest since mid-March after Draghi spoke, though it's since recovered. It was little changed at $1.0670 as of 1:40 p.m. Frankfurt time, after falling as low as $1.0629. Investor expectations that the ECB could raise the cost of borrowing as early as January 2018 have fallen back in the past two weeks after increasing following Draghi's March 9 press conference.

Draghi's trying to "let monetary policy evolve, but do it very, very slowly," said Rick Rieder, global chief investment officer of fixed income at BlackRock. "My sense is things will change, but they are going to give it a couple of months and they are going to be very deliberate around normalizing."
Speaking after Draghi on Thursday, ECB Chief Economist Peter Praet reaffirmed the importance of sticking to the current policy plan to avoid the risk of reversing the success of its measures.
"This forward guidance implies a sequencing between the interest rate policy and the quantitative policy that can most efficiently internalize and exploit the intimate complementarities between these two key components of our current stance," Praet said.
While the ECB may still be some way from withdrawing stimulus -- though it has reduced its monthly bond purchases to 60 billion euros from 80 billion euros -- Weidmann is of the view that the economy is strong enough for the debate to start now.
"Given the prospect of a continuous, robust economic recovery in the euro area and an increase in price pressure, the discussion on when the Governing Council should consider monetary policy normalization and how it could adjust its communication accordingly in advance is legitimate," he said in Berlin.
In a speech released on Thursday, ECB Vice President Vitor Constancio offered a more dovish view, saying a decline in underlying inflation recently is "disappointing" and it's too early to declare policy success.
"It's time to consider a a strategy for policy normalization," said John B. Taylor of Stanford University. "It's got to be predictable, it's got to be clear."
— With assistance by Lucy Meakin, Carolynn Look, Piotr Skolimowski, Catherine Bosley, and Manus Cranny
Before it's here, it's on the Bloomberg Terminal.
LEARN MORE