Yum China Soars After Pizza Hut Turnaround Fuels Earnings
Bloomberg News
Fast-food chain was spun off from U.S parent last year

Company to open Taco Bell in multiple Chinese cities in 2017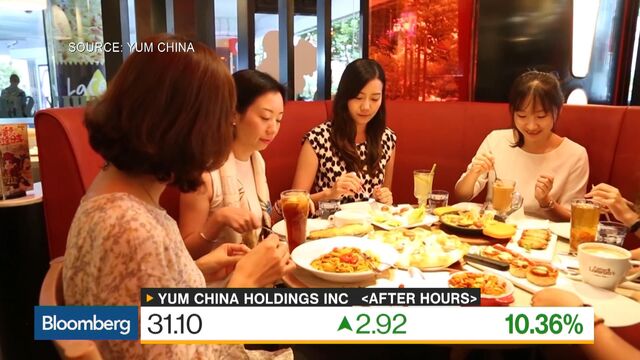 Yum China Holdings Inc., the Asian offshoot of the U.S. fast-food giant, rallied as much as 14 percent after a turnaround at its Pizza Hut chain helped earnings outstrip estimates in the first quarter.
Pizza Hut's same-store sales climbed 2 percent in the period, which ended Feb. 28. Analysts had predicted that growth would be flat, according to Consensus Metrix. That contributed to profit of 44 cents a share, well ahead of the 38-cent average estimate.
The results signal that the company is enjoying a strong start after its spinoff from Yum! Brands Inc. last year. Sales at the company's Pizza Hut and KFC outlets exceeded expectations as it relaunches Taco Bell in the world's largest consumer market. Yum China plans to build as many as 600 stores annually to add to its more than 7,600 existing ones.
The split from Yum Brands is causing investors to "appreciate that the power of Yum China's business model is going to create a higher valuation," said Chief Executive Officer Micky Pant in an interview in Shanghai on Thursday. "In the past, Yum China got lost within the Yum system."
Shares Rise
The spinoff means that "all the cash we generate is staying in China," Pant said. "Our $1.25 billion in cash and short-term investments in China is giving us tremendous confidence that we can build more stores and refurbish stores."
Yum China shares rose as high as $32.12 in New York trading after the results were released, marking their biggest intraday gain ever. Yum China had gained 7.9 percent this year through Wednesday's close, while its former parent was up less than 1 percent.
The company has left behind its two-year sales slump through digitized, simplified menus, cashless payment options and home delivery for a flat 9 yuan ($1.30) fee. Unlike other restaurants, which rely on delivery aggregators run by internet companies like Baidu Inc., KFC has its own drivers and controls user data.
Pant said that the company's delivery business, which comprises 12 percent of overall sales currently, is profitable.
Taco Bell Relaunch
Yum China also re-introduced Mexican fast-food chain Taco Bell to China last year, opening a store in Shanghai in December that has breakfast options and cocktails on the menu. Pant said that more Taco Bell outlets will be opened in Shanghai this year, as well as in "one or two" other Chinese cities, declining to give details.
Yum China has been working to turn around Pizza Hut by simplifying its menu and speeding up service.The company's KFC division also exceeded expectations last quarter. It posted a 1 percent gain in same-store sales, compared with the 2.4 percent decline analysts had predicted. Yum China's overall sales gained 1 percent by that measure.
The company was spun off from its U.S. parent in October, letting that business focus on improving its domestic operations.
"The spinoff allowed them to move faster and put decision-making in the hands of those in China," said Shaun Rein, managing director of Shanghai-based China Market Research Group. "There's definitely been a turnaround over the last 18 months both in KFC and Pizza Hut and the spin off has unlocked a lot of value for shareholders."'
— With assistance by Rachel Chang, and Leslie Patton
Before it's here, it's on the Bloomberg Terminal.
LEARN MORE