World Leaders Watch in Silence as Trump Cuts Climate Efforts
By
Nations mute criticism as U.S. cuts enviromental efforts

Germany, others plan to jointly push Trump at G7, G20 summits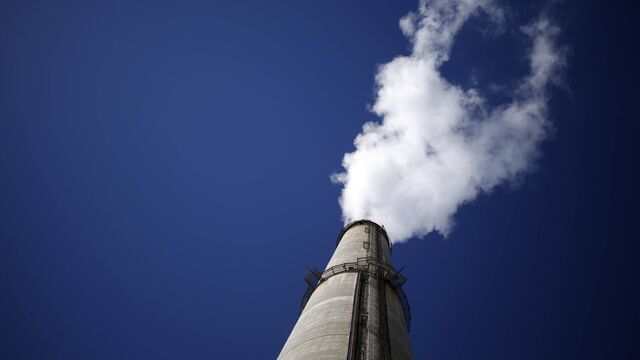 As President Donald Trump tries to rip U.S. climate change efforts out by the roots, world leaders are watching in silence.
Presidents and prime ministers around the globe have raised few, if any, public objections to Trump's sweeping orders to gut environmental regulations. German Chancellor Angela Merkel said nothing about climate last month during her appearance with the U.S. president. And the issue is unlikely to come up in detail this week when he meets with Chinese president Xi Jinping.
The muted international reaction underscores the cautious line nations are treading with a president threatening to upend worldwide efforts to stop global warming. Rather than publicly confront him, leaders are largely keeping criticism of Trump's climate stance behind closed doors, avoiding a showdown that might prompt him to double down on support for fossil fuels.
"Confrontation will be useless -- indeed counter-productive -- with Mr. Trump," said Robert Stavins, director of Harvard University's Environmental Economics Program.
Read More: What Trump's Climate Views Might Mean for World
China Summit
This week's two-day summit in Palm Beach, Florida, between Trump and Xi presents the two leaders with their first opportunity to discuss a list of pressing issues. Global warming, which Trump has called a hoax, is unlikely to get much attention.
"I don't think that the Chinese will probably be raising that in detail," Susan Thornton, acting assistant secretary for East Asian and Pacific Affairs at the U.S. State Department, said in a teleconference Wednesday. "I don't think that it's going to be a major part of the discussion."
"The U.S. is completely not interested in the climate issue," Chai Qimin, a policy adviser to the Chinese government, said in an interview. "Trade and North Korea will be the topics."
It may be premature to directly confront Trump on climate. The president won't determine until May whether to follow through on his campaign pledge to withdraw from the Paris Agreement, the landmark accord to cut greenhouse gases brokered in the French capital in 2015 by more than 190 nations.
The impact of a U.S. withdrawal from the Paris Agreement would reverberate around the globe. As the richest nation and the second-largest polluter, American efforts are central to keeping climate change from hitting an irreversible tipping point, unleashing catastrophic floods, droughts and storms, scientists say.
'Crickets'
Diplomacy is by necessity steeped in superficial niceties, and leaders tend to be cautious about picking fights with new administrations. That's particularly true with an unknown quantity such as Trump, as nations develop strategies for dealing with him on a host of issues beyond climate, including trade, NATO and China's sovereignty claims in the South China Sea.
"Like with any new government, the international community is willing to give Trump a little bit of time," said Alden Meyer, director of policy at the Union of Concerned Scientists, who has been following the UN talks for more than two decades.
That doesn't mean there isn't conflict on the horizon. Merkel and others have indicated they plan to press Trump on climate at Group of Seven and Group of 20 economic summits hosted this year by Italy and Germany. The idea is that collective pressure from multiple nations is more apt to sway Trump than efforts by any single country, said Jake Schmidt, who follows international climate talks for the Natural Resources Defense Council.
"While it may appear there are crickets on the international scene, I think a storm is brewing," Schmidt said in an interview.
'A Disaster'
World leaders haven't been entirely silent. Denmark's energy minister called Trump's executive orders "worrying." A Chinese government-run newspaper, which tends to reflect the sentiments of Xi and his advisers, condemned the moves as "political selfishness." And European Commission President Jean-Claude Juncker said Trump was endangering the entire globe.
"This is a disaster," Juncker said during a March 29 appearance in Malta.
Most national officials have offered more subdued reactions. Ministers from Australia and India, for instance, reiterated their commitments to the Paris accord in response to Trump's order last week to roll back climate change efforts. Japan withheld judgment altogether.
"We will refrain from commenting on the U.S. stance as we don't know yet the big picture on the Trump administration's policy on climate change issues including the Paris agreement," Motosada Matano, director for global communications in Japan for the prime minister's office, said in an email.
Red Line
Time will tell whether the lack of public outcry is a prelude to a fight -- or an indication that the international community is giving Trump a pass on climate in order to preserve harmony over free-trade or other issues. The clearest indication may come in July, when heads of state gather in Hamburg for the G-20 summit.
Until then, there is at least one red line that may trigger international outcry if crossed by Trump.
"If the U.S. were to withdraw from Paris, I think there would be significant diplomatic repercussions," said David Waskow, director of climate initiatives for the World Resources Institute.
— With assistance by Brian Parkin, Anindya Upadhyay, Gregory Viscusi, Chisaki Watanabe, and Feifei Shen
Before it's here, it's on the Bloomberg Terminal.
LEARN MORE