U.S. Expels Russian Spy Who Tried to Recruit Ex-Trump Aide
By
Buryakov worked at Russian bank Vnesheconombank in New York

Spy allegedly sought to recruit energy consultant Carter Page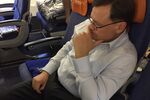 The U.S. deported a former New York banker to Russia who allegedly tried to recruit an ex-adviser to President Donald Trump and was convicted and imprisoned in 2016 for being a spy for Moscow.
Evgeny Buryakov, 42, worked as an employee in the New York office of the Russian bank Vnesheconombank before being convicted of operating as an agent of Russia's foreign intelligence agency without following U.S. law requiring he register as an agent of a foreign government, according to a statement Wednesday from U.S. Immigration and Customs Enforcement.
"Buryakov worked in the United States for almost four years as an agent of Russia's foreign intelligence agency, known as the SVR," according to the statement. "Buryakov operated under non-official cover, meaning he entered and remained in the United States as a private citizen, posing as an employee in the New York office of a Russian bank, Vnesheconombank (VEB)."
Buryakov was released from U.S. prison last week after serving nearly 30 months.
In 2013, Buryakov and two other Russian spies targeted for recruitment U.S. energy consultant Carter Page, once listed by President Donald Trump as one of his foreign policy advisers, BuzzFeed News reported on April 3. Page has denied any improprieties in his contacts with Russian officials and intermediaries. White House spokesman Sean Spicer said last month that Page had minimal if any involvement in Trump's presidential campaign.
Diplomatic Immunity
According to a Federal Bureau of Investigation criminal complaint filed in 2015, Buryakov and two other Russian intelligence operatives identified as Victor Podobnyy and Igor Sporyshev discussed trying to recruit Page as an asset in 2013. Podobnyy and Sporyshev were also charged by the U.S. but were afforded diplomatic immunity and left the country, the Justice Department said in a statement in May.
Page was not named in the complaint but he confirmed to BuzzFeed that he was the person being discussed as a potential asset by the Russians. Page knew he was the person because he was interviewed by FBI agents in 2013 as part of their investigation, according to BuzzFeed.
There's no evidence Page did anything wrong and the recruitment effort occurred about three years before Page was identified by Trump as being an adviser.
The FBI is investigating Russia's efforts to meddle in the 2016 U.S. presidential election and whether anyone associated with Trump colluded with Moscow to do so. Page is among a handful of officials connected to Trump the FBI has been examining.
Page didn't immediately return a phone call and email seeking comment.
Before it's here, it's on the Bloomberg Terminal.
LEARN MORE