business
Toronto Mayor Says Hydro a 'Good Investment' for Reserve Funds
By
City is setting up investment board to oversee reserve funds

Independent body would be akin to CPPIB, Mayor Tory Says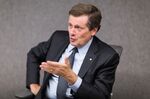 Toronto Mayor John Tory said he's confident a new investment body being set up to manage "billions of dollars" of the city's reserves would view the Toronto Hydro Corp. utility "a good investment" for Canada's biggest city.
City Council last week agreed to establish an independent board to manage investments of its reserve funds, thanks to a change in provincial rules allowing municipalities to broaden investments beyond government-backed bonds, treasury bills and bank deposits. The move means the city can form a body like the Canada Pension Plan Investment Board, the nation's largest pension fund, that would be free of political interference, according to Tory.
The mayor said an additional investment in Toronto Hydro, possibly in the form of equity or debt, would be appropriate for the new agency. The city-owned utility has been cited in staff reports as a possible sale target to boost funds for the city. 
"We believe very confidently they would look at an investment in Hydro, our own owned asset, and look at the return we would get," Tory said Tuesday in an interview at Toronto's Bloomberg office, suggesting an investment of "a couple hundred million dollars" in the utility. "If they look at the return we'd get, they look at the security of that investment, they would say 'yes, that's a good investment for the people of the city of Toronto'."
City council earmarked C$557,500 ($415,000) as an interim budget for the investment board and is looking to recruit members for the body. An earlier city report recommended the investment board be made up of seven people including a chairman, with one member from the city's treasury, for terms of up to four years.
Toronto Hydro would be just one possible investment for this new entity, according to Tory, who added he doesn't support the idea of selling the utility.
"This would be one of the things they could opine on, in addition to a thousand others, as to what you could do when you broaden out the investment criteria for these reserves we have to try and get a better return," he said.
— With assistance by Kim Chipman
Before it's here, it's on the Bloomberg Terminal.
LEARN MORE