business
How Trump's Wall and Hitler Ended Up in French Political Debate
By and
LafargeHolcim plotted with IS, leftist Jean-Luc Melenchon says

Workers Party's Arthaud blasts cement maker over Trump wall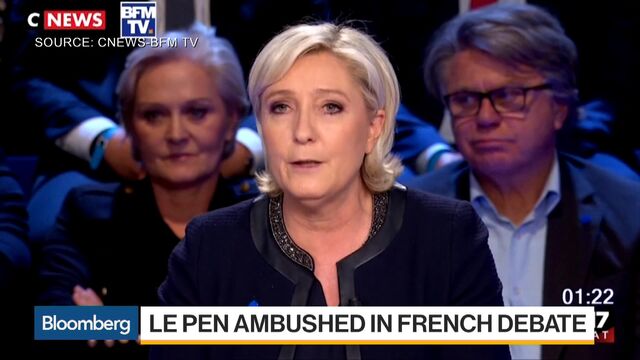 LafargeHolcim Ltd., the world's biggest cement maker, found itself in the cross-hairs of two of France's presidential candidates at Tuesday's debate, showing how the resurgence in populism is dragging companies into the political arena.
Jean-Luc Melenchon, a Communist-backed candidate who's running fourth in opinion polls, attacked the Jona, Switzerland-based business for paying Islamic State to keep a factory open in Syria amid a civil war. Nathalie Arthaud of the left-wing Workers Party said LafargeHolcim is an example of what's wrong with capitalism.
The debate marks the second time in a week that the company, formed from the 2015 merger of France's Lafarge SA and Switzerland's Holcim Ltd., has been targeted by politicians. The Paris city council voted March 28 to stop working with the cement maker because of the Syria payments and also due to its willingness to supply material for the wall that U.S. President Donald Trump plans to build along the Mexican border.
"Accomplices should be punished," said Melenchon. "I find it very strange that the case of Lafarge, a global cement producer which acknowledges having paid IS to continue producing its damned cement, hasn't been mentioned. Well, this company should be seized by the state. We need to make an example of those who plot with the enemy."
Unacceptable Payments
LafargeHolcim said last month that an internal probe shows that Lafarge paid money to armed groups to keep a plant operating in war-torn Syria, measures the company said were unacceptable and against its code of conduct. Funds were given to third parties who then made arrangements with a number of groups, including "sanctioned parties," it said. Islamic State fighters seized the plant in September 2014.
"We have shared a limited number of preliminary findings and conclusions that involve facts which are clearly not in line with who we are as a company today," LafargeHolcim said in an emailed statement in response to questions, declining to comment directly on the debate. "At this point it would be imprudent to comment on any specific findings of the internal investigation until it is completed in the coming weeks."
The Paris vote doesn't affect construction companies that have contracts with the council. It only applies to the city's direct partnerships with LafargeHolcim. Paris will end a longstanding arrangement to take sand from the company for artificial beaches along the river Seine, which the company had provided free of charge. The city had already decided it would replace sand with grass and plants this year, yet agreed to shun the cement maker anyway.
Looming Election
Tuesday's debate included all 11 candidates who are running in the first round of the election, which takes place April 23. If no candidate wins a majority, the top two finishers face off in runoff on May 7. Marine Le Pen of the anti-euro, anti-immigrant National Front leads in the first round, but polls show her losing in the runoff to independent Emmanuel Macron or center-right candidate Francois Fillon.
Arthaud, who had the support of 0.5 percent of likely voters in the most recent Ifop poll, has proposed making it illegal for companies to lay off workers. She said Melenchon's proposal to enact a new French constitution wouldn't be enough, given the actions of companies like LafargeHolcim.
"It built the Atlantic wall under Petain and Hitler," she said, referring to the defenses built by Nazi Germany along the coast of continental Europe during the second world war. "Now, we've all learned, it's been doing business with IS, and now, it wants to build the wall between the U.S. and Mexico. It's clear that these large groups won't be stopped by a change in regime or a new constitution," Arthaud said.
"The only thing that counts for them is their cash, their dividends, their rapacity, and I want to tell workers that their lives, our lives, depend on these people," she added.
— With assistance by Alice Baghdjian
Before it's here, it's on the Bloomberg Terminal.
LEARN MORE