Greece Said to Near Bailout Compromise on Pensions, Taxes
By
'Work continues,' Eurogroup head Jeroen Dijsselbloem said

Prime Minister Alexis Tsipras seeks deal by April 7 deadline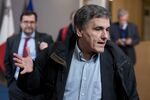 Greece and its creditors are closing in on a deal over the reforms needed to unlock fresh loans for the country, even as Prime Minister Alexis Tsipras warned that a summit of euro-area leaders may be required if an agreement isn't reached by Friday.
In a proposed compromise discussed on Tuesday, Greece would reduce its pension outlays by 1 percent of gross domestic product in 2019 and lower its tax-free threshold in 2020 by a similar amount, according to three officials with knowledge of the talks. The tax measures would be accelerated by a year if Greece is set to miss its primary surplus target, which excludes interest payments, in 2018, said the officials, who asked not to be identified since discussions are ongoing.
Finance Minister Euclid Tsakalotos led a Greek delegation to Brussels on Tuesday to try to overcome differences with the nation's creditors over pension and labor market overhauls. Agreement on the plan, which still needs the approval of the International Monetary Fund and the government in Athens, would clear the way for auditors to return to Greece to conclude negotiations and allow for an aid disbursement before the country has to make more than 7 billion euros ($7.5 billion) in bond payments in July.
One of the officials said the exact breakdown of additional savings envisaged in the proposed compromise was still not fully agreed. Technical issues, including reforms to the energy sector, will also need to be resolved before the review can be completed.
"Had talks and contacts on Greece during the day. Work continues," Jeroen Dijsselbloem, the Dutch finance minister who presides over meetings with his euro-area counterparts, said in twitter post. A planned conference call between the two sides on Wednesday evening was canceled, one of the officials said.
Extraordinary Summit
Tsipras said on Wednesday that "we are a breath away from an agreement," but cautioned that if no deal is reached by Friday, when euro-area finance ministers meet in Valletta, Malta to discuss the review, an extraordinary summit of heads of state and government may have to be called.
"If no agreement is reached in this coming Friday's Eurogroup, we will have to take initiatives at a higher level to achieve a positive result before Easter or by the end of April," Tsipras said in a joint press conference in Athens with European Council President Donald Tusk.
Concluding negotiations on the policies Greece must implement would clear the way for discussions over easing the country's debt load and for the next disbursement of bailout cash. While Greece doesn't face any imminent liquidity trouble, it still has to meet the debt payments in July, while the uncertainty over its bailout is weighing on the country's economy.
The next tranche of aid could be about 7 billion euros, Dijsselbloem said on March 30.
— With assistance by Corina Ruhe, Eleni Chrepa, and Sotiris Nikas
Before it's here, it's on the Bloomberg Terminal.
LEARN MORE