Firestone Diamonds Finds Its Biggest Gem at New Lesotho Mine
By
Miner rises 13% in London after finding 110 carat stone

Company says find confirms belief that mine holds big gems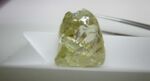 Firestone Diamonds Plc unearthed an 110 carat diamond, it's biggest find so far, at its newly developed mine in Lesotho.
Firestone found the gem-quality light yellow diamond as its Liqhobong project in the Southern African country, the company said in a statement Wednesday. The find confirms its belief that the deposit holds large stones, it said. The shares rose as much as 13 percent, the most since July, and traded 11 percent higher at 49.50 pence by 4:10 p.m. in London.

The discovery of large stones, known as exceptionals, has the potential to significantly increases earnings and will help boost confidence the company can find more sizable stones. Firestone sold diamonds at an average $107 per carat at its first sale in February, below the global average of about $120 a carat.
"This is an excellent result for the company to have so quickly recovered a large colored stone, highlighting the potential for balance sheet transforming stones," Investec Plc said in a note to investors Wednesday. "We look with great anticipation what price could be achieved."
While the discovery of large stones is hard to predict, rival producers such as Gem Diamonds Ltd. and Lucara Diamond Corp. have made significant windfalls from big diamonds.
Though the discovery is significant, for Firestone it's still dwarfed by the finds of some of its rivals. Lucara found a 1,109-carat diamond, the biggest in more than a century, in 2015, and last year sold a 813-carat diamond for a record $63 million. Gem diamonds has unearthed some of the world's best quality and most expensive diamonds, including a 357-carat stone that sold for $19.3 million in 2015.
Firestone spent $185 million building the Liqhobong mine which started production in October. Before today's announcement, the company had recovered 20 stones larger than 10.8 carats, the industry cut off for an exceptional stone, including a 37 carat white diamond.
Before it's here, it's on the Bloomberg Terminal.
LEARN MORE