Duterte's Tax Plan May Reverse Manila's Foreign Fund Exodus
By
Only Asian emerging market suffering fund outflows this year

12-month price-to-earnings ratio vs MSCI EM widest in 6 months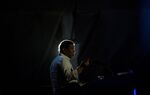 Philippine equities can lose their tag as the only emerging Asia market to suffer foreign fund outflows this year -- with a helping hand from President Rodrigo Duterte.
Strategists say progress on Duterte's promised tax reforms is needed to bring back global asset managers, who have offloaded $213 million of Manila-listed equities in 2017 while pouring $6.8 billion into India and $1.4 billion into Malaysia. Investors are also looking for company profit growth to justify an index valuation that's at the widest premium to emerging market peers in six months. Philippine stocks fell today, halting a three-day rally.

"The Philippines is a very attractive market to invest in but there are more obviously better opportunities elsewhere and there have been some headwinds in terms of the tax reform not passing, the earnings momentum depleting and also geopolitical risks," Vanessa Donegan, who helps manage $456 billion as managing director at Columbia Threadneedle Investments, said. "We like the Philippines for its potential for increased infrastructure spending but how will the government get to finance that without getting this tax reform package through?"
Duterte has been a boon and a curse for stock traders, helping spark a rally before his May 2016 election through fiscal spending pledges and then spooking international investors with volatile responses to critics of his deadly anti-drug campaign and verbal attacks against the U.S. His tax plan has yet to pass its first hurdle in Congress as lawmakers seek to replace his proposal, while Teneo Intelligence predicts a June target for the bill's approval probably won't be met.
Duterte's tax package, which aims to raise levies on fuel and cars while cutting income taxes, is estimated to raise 163 billion pesos a year. The funds are needed to bankroll an ambitious $160 billion infrastructure plan and Duterte's war on drugs, while helping to preserve the nation's investment-grade credit rating.
Uncertainty over the tax plan has also hurt the Philippine peso. It's the worst-performing Asian currency this year, slipping 0.9 percent as the current account surplus is forecast by Fitch Ratings to turn into a deficit in 2017 after shrinking 92 percent last year. Strategists expect the peso to weaken another 2.6 percent to 51.5 per dollar by the end of the year as the U.S. Federal Reserve tightens monetary policy.
Still, there are signs sentiment toward the nation's equities may be thawing. Foreigners added $136 million to the market this week, helping push stocks to a five-month high and pare outflows, which reached $349 million in the first quarter. Even if his tax reform is slow, Duterte's other policies -- from opening up more to China to increasing infrastructure spending -- are helping drive an economy that's forecast by the World Bank to expand close to 7 percent from this year until 2019, among the fastest globally.
While GDP growth remains favorable, Alan Richardson, a Hong Kong-based investment manager who helps manage $173.5 billion at Samsung Asset Management, isn't convinced that the tide has turned for Philippine stocks, preferring Singaporean and Malaysian peers.
"The pullout was caused by a lack of positive growth surprises and a lack of stimulus from the new government," said Richardson, who has been underweight Philippine equities since the third quarter of 2016. Foreign "fund outflows will stop when the above reverses or valuations come down to a level that's attractive to history or regionally comparable."

Shares in the Philippine Stock Exchange Index are trading at 17.8 times 12-month estimated earnings, the most expensive in the region and almost a fifth above their 10-year average. The MSCI Asia Pacific Index is valued at 13.4 times, while a gauge of emerging markets trades at 12.1 times.
Stocks are hitting "toppish valuations" and this could spur profit-taking, according to Rizal Commercial Banking Corp. fund manager Nescyn Presinede, who said better-than-expected earnings and weaker-than-forecast U.S. interest rate increases could push the index beyond its 7,100 to 7,500 trading range . Credit Suisse sees Philippine earnings-per-share growth slowing to 4.2 percent this year from 8.2 percent in 2016, one of only two markets in the Asia Pacific region that the brokerage expects to show slowing earnings momentum.
"Stocks have been range trading and that shows there's a lack of strong conviction. The market is looking for catalysts," says Frederico Ocampo, who helps manage $20 billion as chief investment officer at BDO Unibank Inc. "Foreign investors aren't willing to move ahead of the market."
Before it's here, it's on the Bloomberg Terminal.
LEARN MORE