Australian Regulators May Increase Lending Curbs Amid Home Boom
By
Limits on interest-only loans a 'tactical response,' APRA says

Byres says will review capital banks hold against mortgages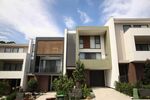 Australian regulators may take further steps to rein in mortgage lending amid growing concern booming home prices pose a risk to the financial system.
Restrictions on interest-only loans announced last week were a "tactical response" to growth in lending to property investors, Australian Prudential Regulation Authority Chairman Wayne Byres said in a speech in Sydney on Wednesday. The regulator "can and will do more, or less, as conditions evolve," he said.
His comments come amid heightened concerns about the housing market among regulators and politicians. Australian house prices rose the most in almost seven years in March, data from CoreLogic released Monday showed. The boom is being led by Sydney, where average house values surged 18.9 percent in the past 12 months, the most since November 2002.
APRA will also review the capital that lenders are required to hold against mortgages, Byres said. Home loans account for more than 60 percent of domestic bank lending in Australia.
"The capital adequacy framework needs to address the concentration in housing lending that has built up in the banking system over time: if we are going to put an increasing number of eggs into a single basket, we'd better make sure that basket is an unquestionably strong one," Byres said.
Read more: What's driving Australia's housing boom - a QuickTake Q&A
In a speech last night, central bank Governor Philip Lowe rebuked the nation's banks over lax lending practices and warned regulators are prepared to consider further prudential measures to steps announced last week.
Population Growth
The RBA chief also signaled the government should do more: law makers have failed to release land, encourage residential development and build transport infrastructure in a way that would have allowed Sydney and Melbourne to absorb their rapidly expanding populations without triggering runaway prices.
The property boom is being driven by record-low interest rates, buoyant investor demand and rapid population growth. The population of greater Sydney topped 5 million at the end of June, having added 1 million people in the past 16 years, half as long as it took to add the previous million, the Australian Bureau of Statistics said last week.
Read more: How Asia can help burst Sydney's property bubble
Under the curbs APRA announced last week, lenders will have to restrict interest-only loans -- which are typically favored by housing investors -- to 30 percent of total new residential mortgages. It is currently running close to 40 percent.
Byres said the regulator chose not to lower the 10 percent ceiling on annual growth in investor mortgages, as some analysts had expected, as there was a need to accommodate housing currently under construction.
Treasurer Scott Morrison today added his support to the lending curbs, telling Australian Broadcasting Corp. radio the government backs the "common sense, calibrated, measured" response, adding it is better to use a "scalpel" than a "sledgehammer."