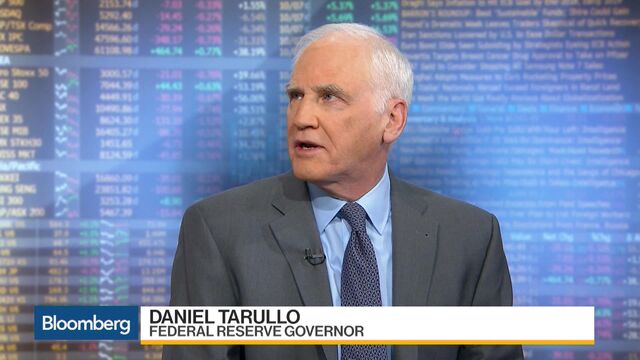 The departure of Daniel Tarullo from the Federal Reserve is a momentous event for Wall Street, which says goodbye (or maybe good riddance) to one of its most enthusiastic regulators. But the exit of U.S. banking's leading watchdog doesn't mean that a new era of friendlier relations with government supervisors will start right away.
1. Why is he leaving?
After more than eight years as a Fed governor, Tarullo is leaving long before his term was scheduled to expire in 2022. If he'd stayed, he would almost certainly have been sidelined. When President Donald Trump picks a vice chairman of banking supervision, that person would have replaced Tarullo in his primary role. And when Trump names the next Fed chair after Janet Yellen departs in early 2018, the agency's new leader would be very likely to have dramatically different views than Tarullo.
2. Why did he matter?
Tarullo's legacy includes implementing what are arguably the world's toughest banking rules, some of them from the Dodd-Frank Act of 2010 and others based on international agreements. He joined the Fed board at the tail end of the 2008 financial crisis. He then spent years marshaling the Fed and other banking regulators toward new constraints that have made the industry cringe, including stress tests, capital demands and requirements that they hold an abundance of liquid assets. Wall Street saw Tarullo as unrelenting -- earning him the nickname "alpha dog" from one lawmaker. When he represented the U.S. in overseas agreements, he pressed to keep banking standards as tough as international regulators could bear. And he insisted that the U.S. rules be even tougher.
3. What might happen without him?

Trump has vowed to tear down Dodd-Frank regulations that he thinks are strangling bank lending. His administration has several prominent bankers who've been warring with Tarullo and other Obama appointees for years. Still, there's only so much the president can do about bank regulations, which are driven by independent agencies like the Fed. Barring legislation to reverse parts of Dodd-Frank, the easiest way to roll back Tarullo's work will be in Trump's appointments -- not just to the Fed, but also to the Office of the Comptroller of the Currency and the Federal Deposit Insurance Corp.
4. What bank rules are most vulnerable?

Trump administration officials have been critical of the Volcker Rule, which banned banks from investing with their own money, and the system Dodd-Frank set up to deal with failed financial firms, which they argue would still be a kind of government bailout. But dramatic changes to Dodd-Frank rules will need new laws from a contentious Congress followed by multi-agency rulemaking negotiations to reverse the existing regulations. More immediately, new agency officials could ease the way rules are enforced, including Volcker, and they could erase less formal "guidance" the regulators have issued, such as restrictions on banks' leveraged lending -- big, risky corporate deals that Wall Street has pulled back from in recent years.
5. What about the Fed's supervision of Wall Street?

In a surprising parting message, Tarullo himself may have given Trump and Wall Street a roadmap for ridding the industry of one of its most feared constraints. The Fed's annual stress tests loom over the industry each year -- especially the possibility the lenders will fail a hard-to-understand measure known as the qualitative side of the exams. Firms defeated by the test are unable to distribute their planned dividends to shareholders. Tarullo's final speech suggested it may be time to phase out that test for the biggest banks, as the Fed did earlier for regional lenders. On his way out, he also said that Volcker's rollout has been "clunky" and that it could stand to be simplified.
The Reference Shelf
Before it's here, it's on the Bloomberg Terminal.
LEARN MORE