Deutsche Bank Loses Senior Executives After Bonuses Slashed
By
At least three executives in Asia and one in Frankfurt leave

Bank said to have paid out deferred compensation last month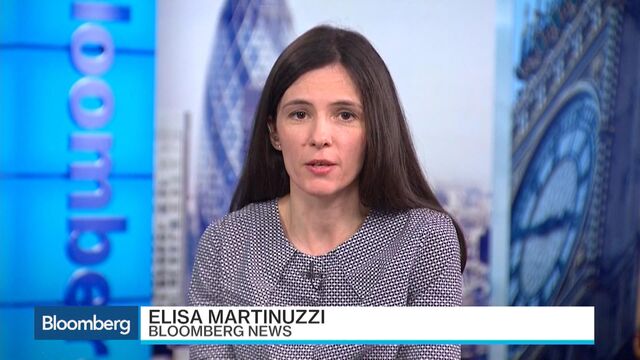 Deutsche Bank AG, which slashed bonuses for a second straight year, saw several senior employees leave after paying out deferred compensation for previous years.
At least three executives -- Kevin Burke, Neil Hosie and Patrick Kelly -- departed from the lender's trading unit in Asia, and one executive, Holger Knittel, took a new job in the bank's home town of Frankfurt. Deutsche Bank paid out deferred compensation last month, two people familiar with the situation said.
Read More: Credit Suisse Said to Hire Deutsche Bank Equities Executives
Europe's largest investment bank in January scrapped bonuses of its top executives and slashed variable pay for other senior employees as Chief Executive Officer John Cryan seeks to rebuild capital buffers eroded by misconduct fines. The lack of clarity on compensation may make it harder for the bank to retain talent and the extent of the impact will probably become visible this month, according to people close to the bank.

"We don't see a wave of departures from Deutsche Bank," said Aleksander Montalbetti, a partner with Indigo Headhunters in Frankfurt. "But we do see a raised level of movement and especially a higher openness to job changes. And other banks are actively asking about candidates from Deutsche Bank."
The pace of departures could accelerate in the coming weeks as people who quit at the end of March wait for their three-months notice period to lapse, Montalbetti said.
Christian Streckert, a spokesman for the bank, declined to comment.
Deutsche Bank is in the midst of a second turnaround plan in less than two years, an overhaul now centered on combining its trading and advisory businesses and integrating consumer bank Postbank instead of selling it. This week the bank is scheduled to complete selling 8 billion euros ($8.5 billion) of new stock to bolster capital. A majority of shareholders are participating in the capital increase, Handelsblatt reported, citing unidentified people in the financial industry.
Deutsche Bank rose 0.5 percent to 15.68 euros at 9:02 a.m. in Frankfurt trading, bringing gains in the past six months to 46 percent.
Popular Employers
This year's bonus cut was the deepest in the bank's recent history and came after two straight years of losses. To make sure key employees don't leave, Deutsche Bank granted so-called retention awards worth roughly 1.1 billion euros to about 5,000 of critical employees vesting over a period of up to six years.
Burke was the Singapore-based head of Deutsche Bank's institutional client group, debt, for Asia and Australia. He joined Deutsche Bank in January 2014 from Barclays Plc, where he was global head of investor solutions & funds, advisory distribution, according to his LinkedIn profile.
Hosie and Kelly were managing directors in Deutsche Bank's Asia equities division. Hosie had previously been Deutsche Bank's Asia head of equity trading, ex-Japan and Australia, for about 13 years, according to his LinkedIn profile. Knittel was managing director in Deutsche Bank's large-cap M&A team in Germany.
A survey by eFinancialCareers in the U.K. found that the bank slipped seven positions in its annual ranking of most popular employers for financial professionals, to 15th place from 8th last year.
While Cryan has announced that back-office staff at Deutsche Bank's trading unit will be cut, he has also said that there will be "selective" investment into front-office staff. The lender recently added a debt trader, Holger Knieper, to its team in Frankfurt and a derivatives trader, Nicolas Cohen-Addad, to its Asia team.
Many Deutsche Bank work contracts in Germany only include two resignation windows per year so people can leave the bank either by June 30 or Dec. 31, said two people familiar with the situation. Employees often prefer to opt for the June date to ensure they get their bonus before leaving, one of them said.
— With assistance by Nicholas Comfort, Cathy Chan, and Chanyaporn Chanjaroen
(
Updates with shares in eighth paragraph.
)
Before it's here, it's on the Bloomberg Terminal.
LEARN MORE