Credit Suisse Investors Urged to Reject `Excessive' Bonuses
By
Glass Lewis says short-term bonuses 'wholly inappropriate'

Bank seeking approval for 26 million francs in such bonuses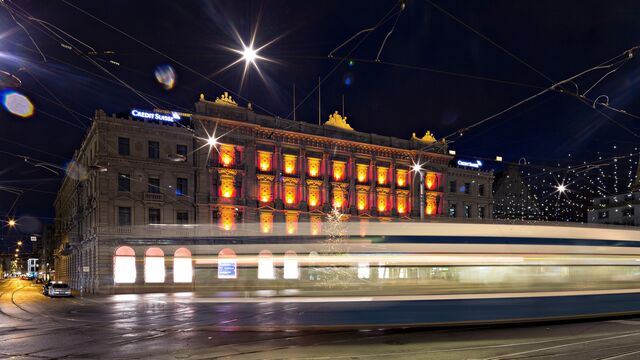 Glass Lewis & Co. is advising Credit Suisse Group AG shareholders reject the bank's proposal to pay 26 million Swiss francs ($26 million) in short-term bonuses to its executive board.
The amount appears "wholly inappropriate given the loss suffered by shareholders in the last two fiscal years," the proxy adviser said in its recommendations for the bank's annual meeting on April 28. Proposed compensation for the board of directors is "excessive," it said.
Swiss law requires companies listed in the country to give shareholders a binding annual vote on executive pay. Lavish packages have become controversial with taxpayers, especially since 2008 when they bailed out UBS Group AG, the country's biggest bank. The politician who pushed through the so-called fat-cat restrictions, Thomas Minder, has spoken out against Credit Suisse's executive compensation plans this year and last.
Credit Suisse's stock fell 33 percent in 2016, with market turmoil, surprise trading losses and legal cases sapping confidence in a costly turnaround plan. Under Chief Executive Officer Tidjane Thiam, the bank has reorganized operations and scaled back investment banking to free up capital for wealth management. Credit Suisse cut some 7,200 jobs last year and plans to eliminate thousands more this year.
"We take note of the recommendations put forward," the bank said in an emailed statement Wednesday. "Credit Suisse respects shareholder democracy."
Thiam 'Overpaid'
Credit Suisse is asking investors to award Thiam 11.9 million francs for his first full year on the job, including more than 4 million francs each in short-term and long-term compensation on top of a salary of 3 million francs. Ten other full-year members of the executive board are to receive total pay of 5.9 million francs on average.

While many shareholders may view Thiam's contribution as "largely positive and key to the long-term recovery of the company," his short-term variable compensation "should be more reflective of shareholders' experiences," Glass Lewis said. It endorsed the proposals for fixed pay and long-term bonuses for top executives.
Credit Suisse is said to be considering selling shares as an alternative to a plan to raise capital by listing part of the Swiss business. The bank tapped investors for about 6 billion francs in late 2015, at the start of the new strategy.
Investors should vote against the reelection of Andreas Koopmann, Iris Bohnet and Kaikhushru Nargolwala to the board, Glass Lewis said. The three also sit on the compensation committee, which the group said had not done enough to address investor concerns about executive pay.
"We believe shareholders should be seriously concerned that the company continues to pay out significant, near maximum opportunity bonuses despite reporting a material loss for the second consecutive year," Glass Lewis said.
New Probe
Glass Lewis was also opposed to Credit Suisse's executive and board compensation packages last year. Almost one in five shareholders voting at the annual meeting rejected the proposed packages.
In its annual report, Credit Suisse praised Thiam for his progress in executing strategy last year, including cutting costs and building capital, and his efforts to drive a change in culture at the bank. The CEO waived part of his bonus for 2015, when the bank took a loss mainly due to restructuring charges. Charges tied to a legal settlement over its crisis-era mortgage securities business pushed the bank into another loss in 2016.
Last week Credit Suisse was also pulled into a five-country investigation into the suspected use of bank accounts by some of its clients to avoid paying tax and for money laundering. Such investigations serve as a reminder to shareholders that new cases regarding the company's previous or current activity may continue to arise, Glass-Lewis said.
Before it's here, it's on the Bloomberg Terminal.
LEARN MORE