Apollo Gains on Wall Street With Westinghouse Bankruptcy Loan
By and
Private equity firm tops Goldman Sachs on Chapter 11 deal

Westinghouse's $800 million package is Apollo's 'big moment'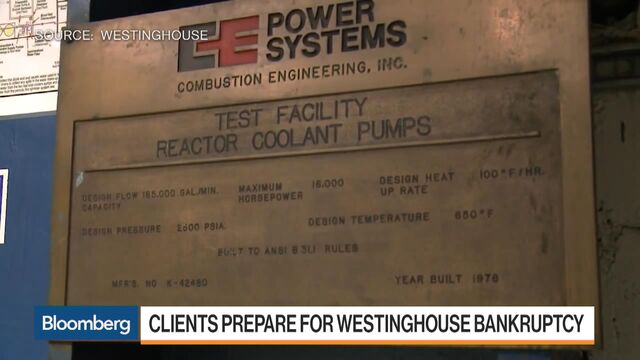 Apollo Global Management LLC's deal to finance Westinghouse Electric Co. in bankruptcy solidified the private equity firm's place in a hotly contested corner of the loan market, a territory once controlled by Wall Street's largest banks.
The private-equity giant outbid a group led by Goldman Sachs Group Inc. last week to provide Westinghouse a "debtor-in-possession" loan, a type of debt that bankrupt companies use to fund operations while they reorganize. Such lenders typically get repaid before all other creditors, and because the borrowers are companies in distress, the loans usually pay among the highest yields in the market.
The DIP loan Apollo underwrote for Toshiba Corp.'s U.S.-based nuclear arm is $800 million. Compare that with the $1.34 billion loan in SunEdison Inc.'s bankruptcy -- the biggest Chapter 11 case of 2016 -- which had multiple lenders and also repackaged existing debt. The Westinghouse deal was the largest single transaction Apollo has undertaken through its credit business, according to people familiar with the matter. 
Apollo's credit arm grew to $137 billion in assets as of the fourth quarter of 2016 from $18 billion in 2009, according to company filings. The growth reflects the New York-based firm's evolution from an alternative asset manager and distressed credit investor to a major lender, said the people familiar, who called the Westinghouse deal a "big moment" in that transformation.
A spokesman for Apollo declined to comment on the deal. New York-based Goldman Sachs also declined to comment. A representative for Citigroup Inc., the agent bank on the DIP loan, declined to comment.
Dedicated Billions
Billions in capital at Apollo are now dedicated to deals like the Westinghouse DIP loan, according to the people, who asked to remain anonymous because they aren't authorized to speak publicly about the matter.
Jon Poglitsch, a portfolio manager at Dallas-based hedge fund Highland Capital Management, said the increased appetite to provide bankruptcy financing stems in part from a growing familiarity with Chapter 11.
"In addition to the attractive returns, part of it is about the stigma diminishing," Poglitsch said. "People are getting more comfortable with the bankruptcy process and the fact that, yes, this is a bankrupt company, but we think it's a viable entity. It's something that will reorganize and we'll get paid out in the back end, too."
Several bidders vied for the privilege of lending to Westinghouse, an icon of American manufacturing whose reputation boosted the allure of a deal. Even after Apollo beat the joint proposal by Goldman Sachs, Highbridge Principal Strategies Investment Partners LLC and Silver Point Finance LLC, the competition didn't end.
Goldman Letter
In a letter to Westinghouse filed in court on March 29, the same day the company filed for bankruptcy in New York, Goldman Sachs's Thomas Tormey, Highbridge's Jeffrey Fitts and Silver Point's Michael Gatto made a counteroffer.
"We can provide a much more favorable financing than the alternative currently being considered," they wrote, offering to reduce the loan's interest rate and reimburse costs associated with pursuing their rival bid, while otherwise keeping the same terms as the Apollo proposal. They said they revised the offer after realizing once negotiations closed that Toshiba was prepared to provide a backstop guarantee of as much as $200 million.
That letter has since been withdrawn, and Sarah Cassella, a spokeswoman for Westinghouse, declined to comment on the renewed offer.
Lengthy Review
From 32 parties initially contacted about a deal, 25 agreed to sign confidentiality agreements, and 14 submitted binding offers, according to court papers. Each offer was evaluated by the Westinghouse board, and on March 26 at 10:30 p.m., after an hours-long summit, Apollo was told its bid had been selected, according to the people familiar with the process.
Apollo's proposal stood out for its competitive price, the prospect that Westinghouse would have to work with just one party on any potential future loan negotiations, the flexibility of certain loan covenants, and an optional one-year extension, according to the people.
With market for DIP loans coming back after years of low-cost borrowing and post-crisis regulations that kept defaults low and made banks retreat from risky loans, alternative lenders have entered the market, eager to capture high returns amid record-low yields. Private equity firms and hedge funds are now as likely as banks such as Goldman Sachs to make the loans, which typically get paid back first in Chapter 11.
Private capital is playing an ever-larger role in DIP financing, according to Drew McManigle, a managing director at SierraConstellation Partners who has 25 years' experience taking companies through bankruptcy and restructuring.
"You're seeing more nontraditional lenders come in and say they're going to provide the DIP in front of the existing lender," McManigle said. "Everybody is looking at this now.''