business
SEC Pick Communicated With Thiel, Mercer Before Nomination
By and
Clayton meetings disclosed in response to senators' questions

Lawmakers sought answers in writing after confirmation hearing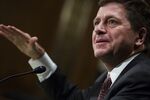 Jay Clayton, the deals lawyer nominated to lead the U.S. Securities and Exchange Commission, said he had "substantive" communications with several wealthy backers of then-President-elect Donald Trump before he was offered the job in January.
Clayton spoke with venture capital billionaire Peter Thiel and political adviser Rebekah Mercer, both of whom were on Trump's transition team, he said in written responses to questions from Senator Sherrod Brown obtained by Bloomberg. Clayton also said he communicated with the campaign's chief executive officer, Stephen Bannon, who is now Trump's chief strategist.
A representative for Clayton declined to comment on the communications.
The Wall Street connections that Clayton cultivated as a Sullivan & Cromwell partner have led Democrats including Senator Elizabeth Warren of Massachusetts to question whether he'll be a tough regulator. The SEC is responsible for crafting and enforcing regulations governing U.S. equity markets and the operations of hedge funds, traders and banks.
Clayton's responses were submitted as a follow-up to his March 23 confirmation hearing before the Senate Banking Committee. In written answers to 15 questions from Brown, who represents Ohio and is the panel's top Democrat, Clayton said he would work with his fellow commissioners on policy and enforcement decisions. He also said he wants the SEC to reduce burdens on newly public companies.
Icahn Meeting
The nominee, who needs Senate confirmation to take the job, also said that he'd met with billionaire investor Carl Icahn, whose role as an informal adviser to Trump on deregulation was sharply criticized by Warren during the hearing. Clayton said Icahn first expressed interest in meeting with him in December, but the meeting took place after his nomination was announced in January.
He acknowledged that "one or more" of the people he met with may be affiliated with companies regulated by the SEC. Rebekah Mercer was a key adviser to Trump's campaign and is the daughter of Robert Mercer, co-chief executive officer of Renaissance Technologies LLC and a major Trump donor.
Financial disclosure forms released last month show that Clayton has been paid $7.62 million since 2015 representing some of Wall Street's biggest firms, including Goldman Sachs Group Inc. and Bill Ackman's Pershing Square Capital Management.
If confirmed by the Senate, he would have to recuse himself for a year from matters involving Sullivan & Cromwell and the companies he represented. He also would be barred from ever weighing in on a specific business deal or an investigation that he worked on as a lawyer.
At the confirmation hearing, Brown asked Clayton to commit to supporting any action the SEC may take in probing stock transactions by Health and Human Services Secretary Tom Price. Democrats have called for a probe into Price's trades of health-care company shares while he worked on issues related to the industry as a member of Congress. In his responses to Brown, Clayton declined to comment on any specific issue, but did say he wouldn't stand in the way of his staff's investigations of possible wrongdoing.
(
Adds details on responses in eighth paragraph.
)
Before it's here, it's on the Bloomberg Terminal.
LEARN MORE