Spain Tells U.K. to Keep Its Cool After Falklands Comparison
By , , and
Former Conservative leader says May would go to war over rock

May's spokesman says naval task force 'isn't going to happen'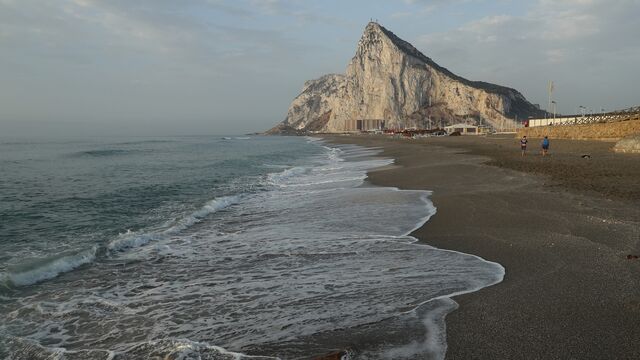 Spanish Foreign Minister Alfonso Dastis moved to calm a diplomatic spat with the U.K. over the status of Gibraltar after a weekend of heated rhetoric that culminated in a suggestion Britain could go to war over the territory.
The flashpoint came on Sunday when Michael Howard, who led the Conservative Party from 2003 to 2005, made a comparison between the tussle with Spain and the 1982 Falklands War between the U.K. and Argentina. He repeated the implied threat in subsequent interviews, telling Channel 4 that "I can see no harm in reminding them what kind of people we are."

"Comparing Gibraltar with the Falklands is taking things out of context," Dastis told reporters in Madrid on Monday. "It looks like someone in the U.K. is losing their composure."
The spat, coupled with its gleeful reception in parts of the British press, threatens to spoil Prime Minister Theresa May's hopes that Spain might be an ally in her negotiations with the European Union. Coming less than a week after May triggered two years of Brexit talks, the quarrel also hinted at the diplomatic minefield the U.K. will have to navigate as it sets about extricating itself from the bloc and establishing a new relationship with its biggest market.
May's spokesman, Greg Swift, said Howard's suggestion that a Falklands-style naval task force could be sent to Gibraltar "isn't going to happen." He also announced that Brexit Secretary David Davis held talks with Dastis in Spain Monday, a meeting that had been "planned for a number of weeks" but fell in the middle of the Gibraltar polemic.
Follow @Brexit for all the latest news, and sign up to our daily Brexit Bulletin newsletter.
EU foreign ministers meeting in Luxembourg took note of the episode, and one of them found it particularly revealing.
"I would say on Gibraltar, you see now how difficult the divorce is," the Netherlands' Bert Koenders told reporters. "Let's be cool and carry on and not use too harsh language," he said. "Let's just negotiate, I think that's most important."
The first indication of trouble came on Friday, when it emerged that EU President Donald Tusk had handed Spain a determining say on whether any Brexit deal will apply to Gibraltar, an area of less than 3 square miles located at Spain's southern tip that has been controlled by Britain since 1713.
The move caused consternation in Britain and in Gibraltar, because Spanish ministers have suggested that they'll seek joint sovereignty of the rock. On Sunday, the territory's chief minister, Fabian Picardo, spoke to May to seek assurances that Gibraltar's interests would be protected.
'Same Resolve'
While May, according to her office, used the call to reiterate Britain's position that Gibraltar's status isn't up for negotiation, others were less temperate with their language.
"Thirty-five years ago this week, another woman prime minister sent a taskforce halfway across the world to defend the freedom of another small group of British people against another Spanish-speaking country," Howard told Sky News. "I'm absolutely certain that our current prime minister will show the same resolve in standing by the people of Gibraltar."
His tone was seized on by elements of the U.K. press. The Telegraph interviewed military experts on the relative size of the two countries' naval forces and concluded that even a reduced Royal Navy "could still cripple Spain." The Sun headlined its story "Spain gets a Brexocet," in a reference to the Exocet missiles used during the Falklands war.
Britain "is a country known for its restraint," Dastis said. "On this particular issue, their restraint is conspicuous by its absence."
Irish Border
Away from the television studios, a British war with Spain remains unlikely, but the dispute shows the danger that the coming Brexit talks are diverted by issues that had been considered settled. In particular, the possibility of restored border controls between Northern Ireland and the Republic of Ireland is viewed by many as a real threat to peace there. 
And heated discussions with Spain make it less likely the country will play the friendly role in the talks that Britain had hoped it might. The two countries have deep trade and tourism ties, as well as many of each other's citizens as residents.
That makes a swift resolution of the Gibraltar issue in Britain's interests. But for May's political health, it can't involve anything that looks like a concession.
"The position of the government is very, very clear, which is the sovereignty of Gibraltar is unchanged and it's not going to change and cannot conceivably change without the express support and consent of the people of Gibraltar and the United Kingdom and that's not going to change," U.K. Foreign Secretary Boris Johnson said in Luxembourg.
— With assistance by Charles Penty
Before it's here, it's on the Bloomberg Terminal.
LEARN MORE