markets
Carmakers Post Surprise Declines as Discounts Fail to Buoy Sales
By and
GM's Chevy Malibu, Ford's Fusion each drop more than 35%

Carmakers 'out of room' to increase spending on incentives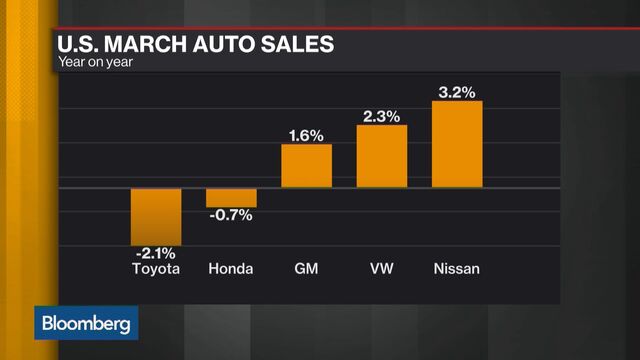 U.S. auto sales trailed estimates, with Kia Motors Corp. and Ford Motor Co. reporting some of the biggest declines, as heavy incentive spending failed to contain plunging demand for sedan and compact models. Carmakers' shares fell.
Combined deliveries for Kia and its affiliate Hyundai Motor Co. slumped 11 percent, and Ford's dropped 7.2 percent last month, bigger decreases than analysts estimated. General Motors Co., Fiat Chrysler Automobiles NV and Toyota Motor Corp. also fell short of expectations.
March was supposed to be the month U.S. auto sales rebounded from decreases in January and February. Instead, ample discounts were unable to spur demand for models like GM's Chevrolet Malibu and Ford Fusion, which are being surpassed by crossovers as the new American family vehicle of choice. Deliveries of those models each plunged by more than 35 percent in March.
Automakers are approaching a "slippery slope" regarding incentives, said Jeff Schuster, an analyst at LMC Automotive. Companies have to ratchet them up "just to get that bump again, and pretty soon you're out of room. You can't move too much anymore."

The industry's annualized sales pace, adjusted for seasonal trends, slowed to 16.6 million in March, from 16.7 million a year earlier, according to researcher Autodata Corp. Analysts had projected the pace would accelerate to about 17.2 million.
GM shares fell as much as 4.4 percent in New York. Ford, now worth less than Tesla Inc. by market capitalization, was down as much as 3.1 percent, while Fiat Chrysler dropped as much as 6 percent.
"Many automakers are looking for signs of market stability as consumers continue to head towards trucks and SUVs," Jeff Conrad, senior vice president of Honda's U.S. sales unit, said in a statement. Deliveries of the Toyota Camry and Honda Accord, longtime leaders in the mid-size sedan segment, dropped 3.6 percent and 12 percent, respectively.
Got 'Crazy'
Nissan Motor Co. sales rose 3.2 percent, beating analysts' estimates for a 2.8 percent gain. Rogue crossover deliveries surged 43 percent in March, as the model continues to outsell the longtime leader within the segment, Honda's CR-V.
"Some of our competitors got really crazy in March," Judy Wheeler, vice president of U.S. sales for Nissan, said in an interview. Incentive spending across the industry rose 13 percent from a year earlier, a jump of about $415 per vehicle, according to researcher ALG.
Combined sales of Volkswagen AG's namesake brand and Audi premium brand rose less than projected as Audi reported a 1.7 percent increase, its smallest gain of the year.
Ford has adjusted its production to respond to changes in consumer demands, Mark LaNeve, Ford's vice president of U.S. sales and marketing, said on a conference call with analysts. In January, the automaker canceled plans to build a $1.6 billion small-car factory in Mexico.
"Mid-size cars, they continue to bear the brunt of strong sales growth in small SUVs," said Erich Merkle, Ford's U.S. sales analyst, said on the call.
— With assistance by John Lippert
Before it's here, it's on the Bloomberg Terminal.
LEARN MORE