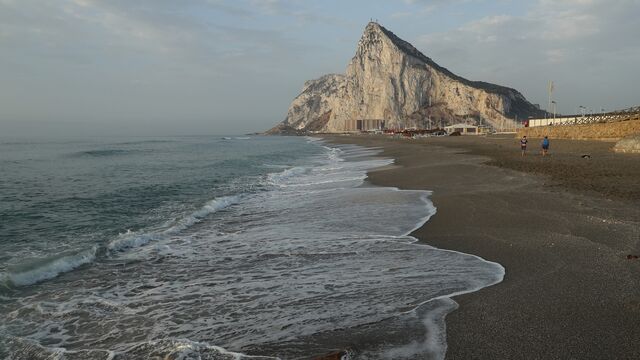 Less than a week after the U.K. triggered talks to leave the European Union, the first diplomatic fight has erupted. It's over Gibraltar, the rocky outcrop at Spain's southern tip. The flare-up came Sunday when Michael Howard, who led the U.K.'s Conservative Party from 2003 to 2005, made a comparison between the conflict with Spain over Gibraltar and the 1982 Falklands War between the U.K. and Argentina. The dispute, coupled with its gleeful reception in parts of the British press, undermines Prime Minister Theresa May's hopes that Spain might be an ally in Brexit negotiations.

1. What's the fight about?
EU President Donald Tusk's draft guidelines on Brexit talks gave Spain the final say on whether any EU-U.K. deal would apply to Gibraltar. That caused panic in Gibraltar -- where the overwhelming majority of residents want to remain British -- and concern in the U.K., which has always said it would defend Gibraltarians against Spain's claims to sovereignty. The EU has tended to be neutral on Gibraltar but as the U.K. leaves the bloc, Spain might expect the EU's support. Gibraltar's status as an off-shore, low-tax haven where Britain's nuclear submarines occasionally cause trouble poses problems for Spain that go beyond patriotism.
2. Why is this significant?

It adds an extra dimension to already complex talks. May, who hadn't mentioned Gibraltar in her divorce letter triggering the Brexit talks, had counted on Spain as an ally as they are united by several shared interests. While more than 300,000 Britons are registered as residents in Spain, compared with 130,000 Spaniards in the U.K., the number of Britons living at least part of the year in the southern European country could be as high as 1 million. Spending by British tourists accounts for about 1.5 percent of Spain's gross domestic product. What's more, the spat over Gibraltar might offer a flavor of what's to come in the Brexit talks, as the EU's 27 states push their own interests, from fights over fisheries to Maltese access to British health care and Austrian concerns about power subsidies.
3. Can the clash over Gibraltar be overcome?
While former Spanish Foreign Minister Jose Manuel Garcia-Margallo says Brexit is the best chance in three centuries to reclaim sovereignty, the Conservatives in May's ruling party are unlikely to tolerate any concessions to Spain. Since the Brexit vote, Spain has revived an old proposal for joint sovereignty under a self-governing arrangement that would allow the border to stay open. When Gibraltarians were asked whether they wanted joint sovereignty in a non-binding referendum in 2002, 99 percent said no. That's even higher than the proportion that voted to remain in the EU in the Brexit referendum last June, which was 96 percent.
4. Is this a real economic problem?
If it brings down Brexit talks, yes. And even if it doesn't, it's a concern for Gibraltar, companies with gambling operations there such as William Hill Plc, and southern Spain's struggling economy. There are 33,000 people living in Gibraltar and another 12,000 commute in each day from neighboring Andalusia, a region with a 28 percent jobless rate. Densely populated Gibraltar imports nearly everything, while 40 percent of the jobs there are done by people who cross the border each day.
5. Why is Gibraltar British territory, anyway?
Because there was a war of succession in the 18th century, with several European powers piling in. The Treaty of Utrecht in 1713 ceded Gibraltar to Britain. The territory -- whose name comes from Arabic -- has been British longer than it was ever part of Spain, as it was under Moorish rule until the late 15th century. It has been strategically useful for Britain due to its location, and the Royal Navy's Gibraltar Squadron continues to patrol the territorial waters.
6. Why is it called 'the Rock'?
Because much of the 2.6 square-mile territory is taken up by the Rock of Gibraltar, a pale craggy outcrop that juts out into the sea where the Mediterranean and Atlantic meet. Wild monkeys inhabit the Rock, one of Gibraltar's main tourist attractions. The Rock was probably formed 200 million years ago following a massive upheaval of the Earth.
7. Have I seen that rock before?
The Rock of Gibraltar is familiar to Americans as the logo of the Newark, New Jersey-based insurance company Prudential Financial Inc., whose advertising promises customers they can "Get a Piece of the Rock."
The Reference Shelf:
Ties between the U.K. and Spain should align their interests in Brexit talks.
Bloomberg examined the rock that feared a Brexit.
The Guardian listed 10 things you might not know about Gibraltar.
--With assistance from Charles Penty.
Before it's here, it's on the Bloomberg Terminal.
LEARN MORE