Fed's Rebel Defends Autonomy as Trump-Molded Central Bank Looms
By
At the Richmond Fed, Lacker dissented 15 times in his tenure

Rising inequality, unresponsive Congress shifts focus to Fed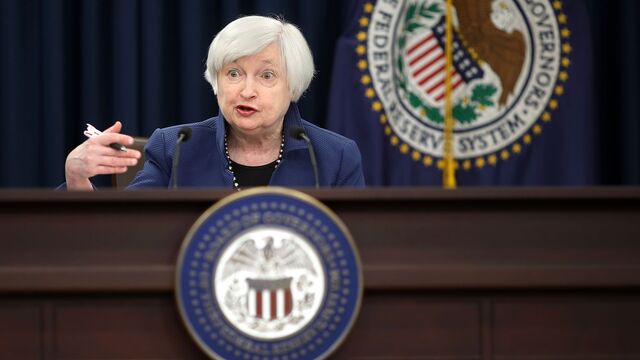 To understand the biggest risk facing the Federal Reserve's future, consider an otherwise mundane photograph in Jeffrey Lacker's office overlooking a turbulent stretch of Virginia's James River.
The president of the Federal Reserve Bank of Richmond stands with his predecessors Robert Black and J. Alfred Broaddus Jr. in front of a relief of Carter Glass, the Virginia lawmaker who co-wrote the Federal Reserve Act of 1913. Together with their research teams, they created a culture over 44 years that held price stability as first among equals of the central bank's twin goals, which also include maximum employment.

Richmond's leadership, and like-minded counterparts at the other 11 regional Fed banks, served as a check against the politically appointed Board of Governors in Washington. They spoke out, and dissented frequently in policy meetings. Black even dissented in favor of tighter money under former Chairman Paul Volcker, who raised rates so high to break runaway inflation that he threw the economy into a deep recession in the early 1980s.
In recent years, Lacker has been dismissed by Fed watchers as out of touch with the policy challenge of the moment. Yet right now, this distinctive culture is starting to look valuable because it is up for grabs.
With President Donald Trump nominating at least three Fed board governors and possibly a new chair and vice chair over the next 15 months, Richmond's independence is being held up as a hallmark strength of the central banking structure that Glass and Congress devised back in 1913.
Guardians of Independence
"The reserve banks are the guardians of independence," said Laurence Meyer, a former Fed governor who now runs a policy analysis firm that bears his name. Meyer said he didn't always agree with Lacker's hawkish approach, but "you want that view represented and he did it well."
Lacker is a Ph.D. economist and investors understood his views within the framework of the rate-setting Federal Open Market Committee. The worry now is that new Fed appointees may not have much of a framework at all, which could erode years of effort by the Fed to move policy to a system that investors understand.
QuickTake: How central banks want freedom but politicians want control
Given the "massive" transition facing the central bank, "it is hard to have a tremendous amount of certainty about what the Fed will look like or act like next year," said Michael Gapen, chief U.S. economist at Barclays in New York.
Trump's views on Fed nominees aren't really known. So far, his selections for economic jobs have ranged from trade adviser Peter Navarro, a harsh critic of China and an advocate of a tough line to ease trade imbalances, to Steven Mnuchin, the Treasury secretary who has voiced a more measured approach in dealing with the nation's biggest trading partners.
There are several worsening trends that new Fed leaders will face that helped nurture the populist support that put Trump in the White House.
An index of inequality has moved higher in each of the past three years. Unemployment is low, but wage growth is sluggish because productivity is weak. Minorities in particular are struggling, and America's cherished promise that if you work hard you can move up appears increasingly out of reach.
Congressional Deadlock
If a country can't use fiscal policy to repair itself because of congressional disputes over spending, it looks toward institutions that can sidestep the deadlock. And that includes the Fed.
Activist coalition Fed Up has urged the Fed to target wage growth and grant low-rate infrastructure loans to cities and states. Such pressures aren't likely to recede.
The Fed on occasion has been forced to choose "between protecting inflation stability and efforts that are urged on us to do something to improve the lot of the common person," Lacker said in an interview in his office on March 24. "Those are really treacherous times for a central bank."
Lacker, 61, will retire in October after 13 years as president. The Richmond Fed's board has never chosen a president from outside the bank. That trend is changing system-wide, however, with appointments in Minneapolis, Philadelphia and Dallas all comprised of outsiders. Regional Fed presidents are picked by the directors of that particular bank, subject to approval by the Fed Board.
Ph.D. Not Required
Michael Bordo, an economic historian and professor at Rutgers University, said there has been a trend to appoint business people and public servants to Fed positions instead of Ph.D. economists.
Patrick Harker in Philadelphia was the former president of the University of Delaware. Robert Kaplan in Dallas was a former vice chairman of Goldman Sachs Group Inc. Neel Kashkari is a former Treasury official who also worked at Goldman Sachs. Raphael Bostic, who takes the helm at the Atlanta Fed on June 5, is a Ph.D. economist and a former assistant secretary at the Department of Housing and Urban Development.
Bordo, who is a paid consultant at the Cleveland and Dallas Fed banks, said the trend toward "pragmatic business type guys" could continue under Trump.
Business and Wall Street types are oriented toward fixing problems, when in fact the central bank's tools may not provide a solution. Regional Fed presidents have sway over their research departments, and non-Ph.D. leaders could put less stock in some areas of investigation, Bordo said. Because the Fed board is oriented toward making consensus decisions, reserve banks are often the institutions that feed frontier thought into the policy process.
Serial Dissenter
Lacker logged 15 dissents over his term. Following his opposition to the FOMC's decision in September 2015 to keep rates on hold, J. Bradford DeLong, a professor at the University of California, Berkeley, wrote on his blog that "12 years of being wrong" hadn't "induced any humility" in Lacker.
"Maybe I look like a Cassandra to some extent," Lacker said. "Early on, I was thinking, we would get back to 3, 3 1/2 percent growth."
He said he was slow to see underlying changes in the economy resulting in a lower policy rate needed to keep supply and demand in balance. "We are in an economy that is just grinding forward at 2 percent."
The FOMC has raised interest rates just three times during the current expansion. Lacker is worried the FOMC may have difficulty breaking out of gradualism.
"Incrementalism has served us well," he said. "We may have become unaccustomed to moving with alacrity."
Lacker said he would like to see the committee alter its swollen balance sheet by swapping holdings of mortgage-backed securities for Treasuries. He also said there is scope to run the balance sheet off "briskly."
He opposed MBS purchases during the crisis. Fed holdings of mortgage assets total $1.77 trillion at a time when housing finance seems to be working fine. Lacker continues to worry about a tendency to use the Fed for intervention and rescues, a sidestep from the legislative process. The institution has the clarity and culture to resist that now, he added. It is up to future leaders to do so.
"There is more credibility, broadly speaking, as an institution and I think more capacity as an institution to speak to the truth," he said, "and to be honest about the things we can't in the long run have a strong effect on."
Before it's here, it's on the Bloomberg Terminal.
LEARN MORE