Trump Tees Off With Rand Paul to Show GOP 'Love' on Health Care
By
Kentucky senator, OMB director to talk Obamacare on links

Bill backed by White House pulled after conseratives dig in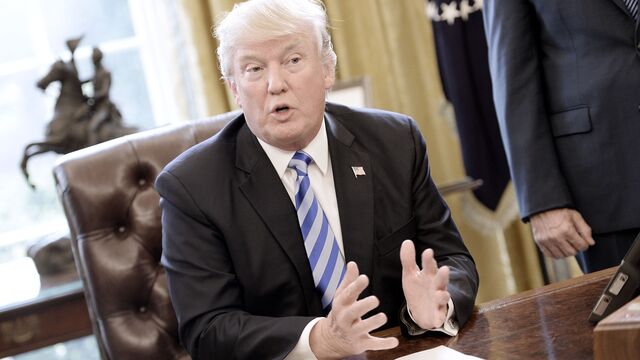 President Donald Trump golfed Sunday with an outspoken Republican opponent of the failed legislation to repeal and replace Obamacare, hours after insisting there's enough "love and strength" among factions of the party to find a new path forward.
Senator Rand Paul of Kentucky and White House budget director Mick Mulvaney golfed with the president at Trump National Golf Club in Potomac Falls, Virginia.
"We had a great day with the president. Played some golf and we talked about a little bit of health care," Paul told reporters on the White House's South Lawn after returning from the outing. "I continue to be very optimistic that we are getting closer and closer to an agreement on repealing Obamacare."
White House spokeswoman Stephanie Grisham earlier told reporters the threesome planned to discuss a range of topics, including health care, during their round, which took place on a sunny spring day perfect for hitting the links. The match took place just days after Trump blasted conservative lawmakers in the House, saying the Freedom Caucus "will hurt the entire Republican agenda if they don't get on the team, and fast."
House Speaker Paul Ryan pulled a Obamacare repeal-and-replace bill, which had been heavily promoted by Trump and White House aides, in late March after it became clear it faced too much opposition within the party and would be voted down on the House floor. Paul was among those who said it wouldn't have had sufficient support in the Senate either.
Trump said in tweets early Sunday that talks on "Repealing and Replacing ObamaCare are, and have been, going on, and will continue until such time as a deal is hopefully struck."
'Love and Strength'
Anybody, especially the media, "who thinks that Repeal & Replace of ObamaCare is dead does not know the love and strength" in the Republican Party, Trump assured his 27 million Twitter followers.
On March 30, Trump said he was ready to "fight" the conservative Freedom Caucus, whose opposition helped to doom Ryan's bill. Trump and his aides have suggested he could back critics' rivals in primaries ahead of the 2018 midterm elections.
Trump had called out several conservative Republicans by name, saying they could drag down the party's entire agenda. "The Freedom Caucus will hurt the entire Republican agenda if they don't get on the team, & fast. We must fight them, & Dems, in 2018!" the president tweeted Thursday.
Trump social media director Dan Scavino on Saturday urged a primary challenge against Representative Justin Amash of Michigan.
Golf Rivals
Representative Jim Jordan of Ohio, co-founder of the House Freedom Caucus, said Sunday that tweets, statements and blame from the White House "don't change facts" and that Ryan's legislation fell short of promises Republicans had made to voters about how Obamacare would be ended.
It was better to "start over" and "get this thing done right," Jordan said on CNN's "State of the Union." If Amash were to face a primary opponent, "I'm going to do everything I can to help him," Jordan said.
Paul, 54, a board-certified ophthalmologist before following his father, former Representative Ron Paul, into politics, had a prickly relationship with Trump even before the health-care standoff. Paul was among the crowded 2016 presidential primary field that Trump blitzed on his way to the party's nomination and the White House.
In August 2015, Trump said in a statement that he had "easily beat" Paul in a golf game and "will even more easily beat him now" in the presidential campaign.
Golf Digest in November said that Paul plays off a 17 handicap. It estimated that Trump, then the president-elect, had a handicap of 2.8.
Before it's here, it's on the Bloomberg Terminal.
LEARN MORE