Haley Says Russia Was 'Certainly' Involved in U.S. Election
By
Ambassador to UN says president not asking her to hold back

Trump has called probes into Russian hacking 'total scam'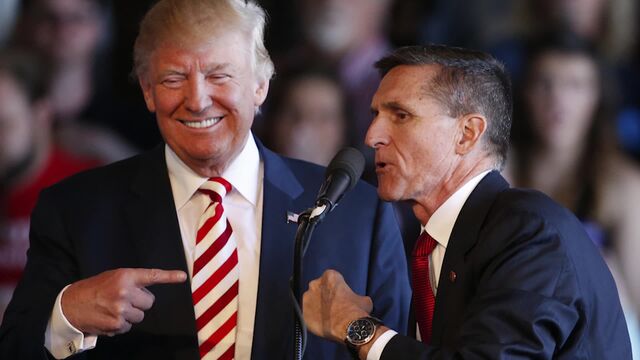 The U.S. envoy to the United Nations says she's maintaining a hard line against Russia, even as her boss -- President Donald Trump -- continues to dismiss reported Russian involvement in the 2016 U.S. election as "fake" news.
"Certainly I think Russia was involved in the election," Nikki Haley said in an interview with ABC's "This Week" broadcast on Sunday, according to a transcript provided by the network. "There's no question about that."
Haley, a former Republican governor of South Carolina, made her first Sunday-show appearances since becoming the nation's top diplomat at the UN as the U.S. prepared to take over the rotating presidency of the UN Security Council.
As recently as Saturday, Trump derided investigations into Russia's involvement with the 2016 election and members of his campaign team as "the phony Russia story. A total scam!"
Yet Haley said she and Trump are "both saying the same thing" about Russia and "it's just being reported differently." Once the information comes out, "I expect that that will be handled accordingly," Haley said, without providing more specifics on actions the U.S. may take.
Haley, 45, said Trump is letting her chart her own path at the UN.
"He is not stopping me from beating up on Russia," she said. "He's not stopping me from talking about the pressure that China needs to be putting on North Korea."
'Beat Up On'
Haley said the new U.S. administration has "beat up on" Russia about its invasion of Crimea, though her predecessor, Samantha Power, did so regularly and the Obama administration imposed sanctions on Russia over its actions in Ukraine.
In a separate interview on CBS, Haley said world leaders weren't worried about Trump's habit of making pronouncements, including on foreign policy, via Twitter.
"No one is talking to me about the president's tweets. No one is talking to me about any of those issues," Haley said on "Face the Nation" on Sunday.
"Foreign leaders are picking up the phone and calling him if they have an issue," she said. "And that's what they're doing with me. If that have an issue, they are calling me. They're not sitting there texting me and saying, 'What was this tweet about?'"
Representative Adam Schiff of California, the top Democrat on the House Intelligence Committee, said Trump's tweets are an attempt to distract people and deflect attention.
"Whenever they see the president use the word 'fake,' it ought to set off alarm bells," Schiff said on CNN's "State of the Union."
— With assistance by Mark Niquette, and Sho Chandra
Before it's here, it's on the Bloomberg Terminal.
LEARN MORE