Paraguay's Cartes Replaces Top Officials After Congress Torched
By
Demonstrations turned violent after senate approved bill

Unrest comes amid Inter American Development Bank Meeting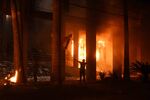 Paraguay President Horacio Cartes replaced his top security officials on Saturday, a day after demonstrators set fire to the South American nation's congress building to protest a measure that would allow him to run for a second term.
The nation's police commander and interior minister were removed due to "the latest events" and with the "express order to maximize care to avoid excesses in the use of force," according to a statement posted on Paraguay's presidential website. Local newspaper ABC Color reported that protesters had returned to the congressional building, although no more violence was reported.
On Friday afternoon, protesters clashed with security forces, who unsuccessfully attempted to prevent them from entering the site. One protester died and more than 200 people were detained by police, according to local media. The fire was extinguished during the night, but the building remained closed off due to the damage.
Speaking at the Inter-American Development Bank meeting in Asuncion, Cartes looked to tamp down worries about the constitutional crisis that erupted this week.
"I can assure you the nation's democracy, as well as its political and economic stability, are in safe hands," Cartes said. "They're anchored in popular support expressed at the ballot box, in the institutions of the nation, and in the vigorous backing of the great majority of our nation that love peace, development and prosperity."
Paraguay's constitution has limited presidents to one five-year term since it was passed in 1992 after the dictatorship of General Alfredo Stroessner, who ruled between 1954 and 1989. The change would allow Cartes to seek another term after his mandate expires in 2018.
The riots took place as Paraguay, the world's sixth-largest beef exporter, hosts ministers and central bankers from across the region in Asuncion for the development bank's annual meeting.
Before the Senate's vote, Finance Minister Santiago Pena sought to reassure investors that efforts to change the constitution were part of an ongoing political conversation that has stretched for more than a decade.
Members of Paraguay's lower house said on local television that a vote on the Senate's bill may not take place until Tuesday.
Economic Reforms
Cartes, 60, a tobacco and soft-drink mogul, has attracted foreign investors' attention in recent years as economic reforms and corporate tax breaks have sparked strong growth in the land-locked nation of 6.8 million amid poor performance in Brazil and Argentina, South America's largest economies.
The government sold $500 million in bonds to international investors last week and wants to continue issuing debt overseas. Cartes has portrayed his nation as a fast-growing alternative to its larger neighbors.
Paraguay's gross domestic product surged an average of 6.5 percent annually from 2010 through 2015, according to data from the World Bank. The country has used a 2000 law that eases the import of goods for assembly to attract Brazilian investment.
Among the major Brazilian companies that have recently set up operations across the border are fashion group Guararapes and toymaker Estrela. U.S. brands such as Forever 21 Inc. and McDonald's Corp. also operate in the country.
— With assistance by Joe Mayes
Before it's here, it's on the Bloomberg Terminal.
LEARN MORE