EU Puts the Squeeze on U.K. as Brexit Negotiation Clock Ticks
By and
Tough stance formalizes previous warnings by EU officials

Tusk sends draft negotiating guidelines to European capitals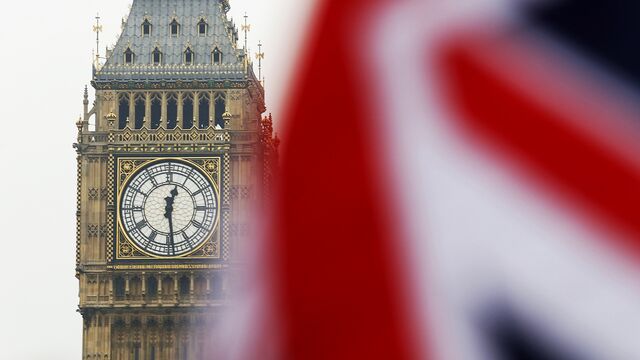 Follow @Brexit for all the latest news, and sign up to our daily Brexit Bulletin newsletter.
The European Union told U.K. Prime Minister Theresa May she will have to wait almost two months for Brexit negotiations to begin and that talks on a trade deal can come in the fall, but only if she first agrees to pay an exit bill.
The EU moved quickly to exercise its control over the Brexit countdown clock now that May has triggered the two-year negotiation period. Substantive talks can't begin until May 22, when EU governments are set to approve the final negotiating directives for the bloc's Brexit point person, Michel Barnier.
Full Text: EU Draft Guidelines Following U.K.'s Brexit Trigger
In draft guidelines circulated to the bloc's 27 other capitals on Friday, EU President Donald Tusk said a free-trade agreement can only be finalized after the U.K. has left the bloc. He said later that he hoped that "sufficient progress" will be made by this fall to allow preliminary trade discussions to start. Tusk also warned that he won't allow defense and security to become bargaining chips.
"We want to talk just about fairness and commitments," Tusk told reporters in Malta. "I have no doubt that for both sides it's really important to show, to demonstrate that we want to be fair to each other during negotiations."
While the two sides technically have until March 29, 2019, to strike a Brexit deal, the need for it to be ratified by European institutions leaves them in reality with just the next 18 months -- and now at least the first six months of that will be focused on the exit bill and EU citizens rights. A so-called mixed agreement, which would also include arrangements for the post-Brexit relationship between the two sides, would also be subject to approval by national parliaments.
Although May again pitched this week for the divorce and trade talks to run in parallel, the EU is holding fast to its argument that the "disentanglement" comes first. Speaking to reporters in Brussels on Friday, a senior EU official said that it is not realistic to expect to complete the future trade accord within the two-year horizon, meaning that transitional arrangements will be required.
Before getting there, the two sides must find an agreement on issues such as the Irish border, the rights of citizens already living in each other's territory and, most crucially, the 60 billion-euro ($64 billion) exit bill that EU officials want to impose and which May's government is already challenging.
Click here to read about Luxembourg judges haunting Britain's breakaway
The guidelines contained no estimate for the bill the EU is seeking although it called on Britain to cover all "legal and budgetary commitments as well as liabilities, including contingent liabilities." While May said on Wednesday that the U.K. would meet its obligations, she also indicated it would seek its share of EU assets built up over four decades of membership.
Given the complexity of the task at hand, the EU official said the bloc's governments must prepare appropriate measures for the possibility of failing to reach an agreement, even though their focus remains on finding a compromise.
The U.K. was again reminded that leaving the EU single market would come at a cost and that Britain would not be able to adopt a "sector-by-sector approach" to winning access to it. Echoing a warning made by Germany, the EU also said any attempt to lure companies with lighter regulation and tax policies will damage the prospects for a trade deal.
Read more: Seven Brexit Op-Eds for Seven Nations
New Relationship
May was also told that any transitional or implementation period to ease the passage to a new relationship once Britain leaves the EU must be "limited in time" and would require the U.K. accepting "regulatory, budgetary, supervisory and enforcement instruments and structures." The EU official said that if the U.K wants to maintain access to the single market during the transitional period, it would have to accept the arbitration and regulation of the European Commission and European Court of Justice.
The EU also added Gibraltar's status to the list of Brexit topics as it sided with Spain in its 300-year conflict with the U.K. over the territory. The guidelines indicated no deal between the U.K. and the EU would apply to Gibraltar without an agreement between Spain and Britain.
In May's Wednesday letter that officially served notice of the U.K.'s intention to leave the EU, she wrote that failure to reach an agreement would weaken the "fight against crime and terrorism." This led some EU leaders to criticize the use of cross-channel security as potential leverage in the negotiations.
"It must be a misunderstanding," Tusk told reporters on Friday in the Maltese capital Valletta. "Our partners are wise and decent partners -- and this is why I'm absolutely sure that no one is interested in using security cooperation as a bargaining chip."
— With assistance by Marine Strauss, and Viktoria Dendrinou
Before it's here, it's on the Bloomberg Terminal.
LEARN MORE