politics
Ecuadorians to Choose Between Lenin and a Tax-Cutting Banker
By
Voters go to polls April 2 as economy emerges from recession

Moreno has pledged to continue policies of President Correa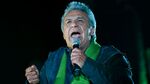 After a year in which much of Latin America moved to more market friendly policies, Ecuadorians must decide Sunday whether to continue with a decade of left-leaning populism or change tack and vote in a career banker who is promising to cut taxes and open up the country's economy.
Opinion polls have given Lenin Moreno, 64, a loyalist to current President Rafael Correa, a narrow lead over conservative Guillermo Lasso, 61, but with no surveys for the past week, Sunday's vote remains too close to call. Moreno won the first round of voting on Feb. 19 by 39.4 percent to 28.1 percent for Lasso.
"There's a wind blowing in favor of Lasso because he is the one who has risen the fastest since the first round, but it will be close," said Santiago Nieto, a political consultant at Informe Confidencial in Quito.
While Ecuador slid into recession last year, its economy has started to grow again without the rampant inflation that characterized countries such as Brazil and Argentina. Still, investors have largely shunned Ecuador in the past couple of years and demand a premium to buy its debt. The OPEC member's bonds due in 2022 extended a three-day slump on Friday, dropping 0.2 percent to 107.11 cents on the dollar, the lowest since mid-December. The yield rose to 8.94 percent.
"Whoever wins, the next president will face severe economic challenges," Stuart Culverhouse, the chief economist at Exotix Partners LLP in London, said in a note to clients. "They will have to deal with a country in recession, a large fiscal deficit and financing needs, and demands for social spending."
Bond Rally
Culverhouse said a a Lasso victory could trigger a quick bond rally, although gains could be tempered as markets and investors would focus on policy implementation and questions over governability.

Four of the six presidential candidates eliminated in the first round called on their supporters to back Lasso as he has promised to roll back a media law that gave Ecuador "one of the worst press freedom records in Latin America," according to the Committee to Protect Journalists, reinstate a left-wing teachers union dissolved by Correa, and restore judicial independence to fight corruption. 
"Lasso represents the neo-liberalism that has done so much harm, but today he's the lesser evil and necessary to recover democracy," said Paco Moncayo, a retired general and former Quito mayor who won 6.7 percent of the votes on Feb. 19.
Both candidates also hold opposite views on the status of Wikileaks founder Julian Assange, who has taken refuge on Ecuador's embassy in London since June 2012. While Moreno has said he can stay, Lasso has said he would ask Assange to leave within 30 days of his inauguration.
The three-week campaign has been acrimonious with Lasso, his family and supporters pelted with vuvuzelas, bottles and other objects after a World Cup qualifying game between Ecuador and Colombia outside Quito's Atahualpa stadium. Lasso blamed the government for hiring "mercenaries" to attack him.
He has pledged to reduce the tax burden on people and companies by $3 billion annually, while maintaining support for the poor including a popular subsidy for liquefied petroleum gas.
Moreno, the country's popular vice president from 2007 to 2013, has pledged to boost public spending on housing, tripling a monthly benefit to poor families to $150, and to build 40 new technical universities. Should Lasso win, "the concept of solidarity will be lost," he told foreign correspondents March 22.
— With assistance by Ben Bartenstein
(
Updates with bonds extending declines in fourth paragrah.
)
Before it's here, it's on the Bloomberg Terminal.
LEARN MORE